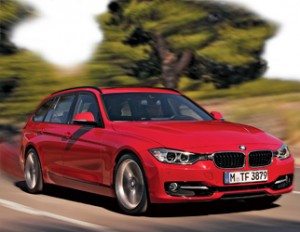 We can't all live like dot-com millionaires (the ones that haven't flamed out or fled to Central America anyway), but you can still drive something a little more prestigious than your mom's old Pontiac Sunfire. There are a number of affordable cars out there that can provide you with the performance and refinement you've always dreamt of in a car. We asked our expert panel to look at five entry-level luxury vehicles that offer the best blend of value, safety and premium performance. The results show that German-made cars still lead the pack, but Japanese and even North American cars are also faring well.
5th place
Volvo C30 | $29,500
"Safety first" has always been the unofficial motto of Volvo, so it should come as no surprise that this distinctive little compact is loaded with technology to keep drivers out of harm's way. Along with the usual luxury options like blind spot detection, Volvo offers its Intelligent Driver Information System, which automatically delays distracting phone calls or messages when it detects intense steering, braking or acceleration. Despite all these features, our panelist panned the C30 for its lack of punch and performance. "It's a bit lackluster in its ride and handling," says Gentile, not to mention "a bit boring on the exterior." Concurs Rolczewski, "The Volvo C30 is like a knock-off designer purse. It looks good, serves the purpose, but you know it's just not a real luxury."
4th place
Buick Verano | $22,895
Our only North American entry but the most affordable. This compact sedan is trying hard not to be your grandfather's Buick, but opinions are mixed on whether it has succeeded in shaking off its stodgy image. Dave Redinger certainly thinks it has. He says the Verano combines great style and great value. "When I first saw this car I thought it was from Acura." Rolczewski, however, isn't quite sure this car has the pedigree to compete with the likes of BMW or Audi. "Does the Buick scream, 'Look Ma, I've made it!' No, but it does show you like comfort and value," she says. But Iny does see comparisons to the Audi A3 because of its "luxury interpretation in a small package" and notes the Verano has become Buick's bestselling car by far.
3rd place
Lexus CT 200h | $31,450
Another hatchback and the only hybrid on our list. Normally, the fuel-saving combination of an electric motor and small gas engine comes with a price premium, but the CT 200h is actually the least expensive Lexus you can buy. That's prompted strong sales, but not all our experts are sold on this car's value. "It's like a Prius wrapped in a pricey wolf's clothing," says Bouchama, noting these vehicles share the same engine. As such, performance is not the CT 200h's strong suit either, but, Gentile says, there's still much to love with this little Lexus. "The ride won't get your blood flowing. But it appeals to a young professional who is interested in saving gas and still wants to drive in luxury." As with any Lexus, predicted reliability is excellent and resale value should be high.
2nd
Audi A3 | $34,100
Our other Deutsch delight is one of three hatchbacks in our line-up. The A3 is a real looker but getting a little long in the tooth. A new version is already on the streets in Europe but buyers here will have to wait until summer to see it arrive in dealer showrooms. Despite its age, our experts had high praise for the opulent Audi. "For years this has been the most luxurious compact hatchback any manufacturer dared to try to sell in North America," says Iny. Adds Nika Rolczewski, "The only thing differentiating this baby from the pricier Audis is the size. The performance is there, the finish is crisp, and the components and materials have a richness to them that is the basis for any luxury automobile."
1st place
BMW 3 Series wagon | $39,900
Known as "Bimmers" or "Beemers" to some, these products of the Bavarian Motor Works are often touted as the ultimate driving machines. "It's definitely a driving enthusiast's car," says Mohamed Bouchama. "The BMW would be my No. 1 choice." Petrina Gentile is equally impressed. "The ride and handling is sporty, dynamic and spirited," she says. "This would be my go-to pick." The 3 Series Wagon received a fresh makeover for 2013 that includes better fuel efficiency, more legroom for backseat passengers and even more safety features than ever. Some of our panelists bemoan the move away from six-cylinder to smaller turbo-charged engines. But they still say the performance and pedigree of this BMW leaves the others in its dust. And although it may be the priciest of our picks, George Iny says a soft European market means more 3 Series models have been flooding our shores, resulting in lower prices and very aggressive leasing offers.
How we came up with the numbers
Vehicle prices reflect the manufacturer's suggested retail price without options or destination charges. For the cost of ownership, we used data from Edmunds.com, converted to Canadian dollars. Remaining scores are based out of 10; the higher the number, the better the value offered. Safety is based on ranking data available from IIHS and NHSTA, the leading authorities in the U.S. Reliability is based on Consumer Reports data gathered from vehicle owner questionnaires. Driving experience is the average score for each model provided by our expert panel. To obtain our overall value out of 100, 20% reflects cost of ownership, 20% reliability, 10% safety and 50% driving experience.
Expert panel
George Iny: President of the Automobile Protection Association
Dave Redinger: Host of the Neighbourhood Mechanic on AM740 Radio
Mohamed Bouchama: Executive Director of Car Help Canada
Petrina Gentile: Producer of CTV's and BNN's Car/Business
Nika Rolczewski: Automotive columnist for the Toronto Star