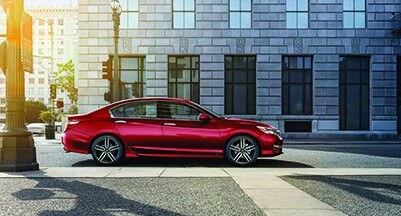 If you were born in the 1980s or earlier, there is a good chance that your family vehicle was a sturdy, North American-built sedan. But for many children today being ferried to soccer or swim class, those ubiquitous sedans have been replaced with myriad minivans, SUVs or frugal hatchbacks. For some, though, a spacious and somewhat sporty mid-sized sedan is still the ideal family hauler. For those people, we asked our expert panel to pull together a top-five list that showcases the best of the affordable four-door cars.
5th place 
Nissan Altima
$23,798–$34,148
The Altima is a surprisingly value-packed contender with a spacious and comfy interior designed to carry four adults across long distances. At press time, pricing was unavailable but expect deep discounts on 2015 cars after the new model debuts. Most people opt for the 2.5-litre engine as it delivers "brisk acceleration and very relaxed cruising," says Corbett. Still, our experts were critical of the unwanted noise made by Altima's continuously variable transmission when the engine is pushed harder than normal.
4th place
Ford Fusion
$22,499–$33,299
Ford has taken a mundane car and transformed it into a looker by borrowing some exterior cues from the Aston Martin. "It's the best looking of the bunch and it packs a lot into its stylish self," declares Nika Rolczewski. Equipped with the smallest four-cylinder engine of this group, the Fusion's 1.5-litre turbo claims good fuel economy but real-world figures don't quite measure up to the promises. Corbett suggests selecting the 2.5-litre engine for reasonable fuel economy and better long-term reliability.
3rd place
Hyundai Sonata
$24,749–$34,799
Backed by Hyundai's comprehensive, five-year warranty, the Sonata may not have the same resale value as our first two picks but it does offer excellent reliability. It also may be the value leader with its feature-packed base model. "The Sonata has lots of features and amenities for a more affordable price than most of its peers," says Cleaver. The basic version comes with standard A/C, heated seats, rearview camera and alloy wheels. The higher trim level GLS and Limited models offer even more goodies.
2nd place
Toyota Camry
$24,505–$35,920
Freshly updated with a sharper look, the 2016 Camry is trying to shake off its safe image as the preferred sedan of the senior set. "Updated bolder styling, a great cabin and legendary dependability make the Camry a no-regret option," says Tim Dimopoulos. The ride and handling are also improved, adds Ron Corbett. "Toyota promised a tighter, more engaging driving experience when the current Camry was introduced, with more precise steering and tighter body control than before, and it has delivered."
BEST DEAL!
Honda Accord
$24,150–$37,665
Though it is not the best seller on this list, the Accord is still our top pick for its blend of refinement, bullet-proof reliability and athleticism. "The Honda Accord spices up the segment with some rare family sedan sportiness," says Rod Cleaver. Besides its road manners, our experts lauded the Accord's excellent fit and finish, surprising fuel economy and good overall value. Owners, like our panelist Petrina Gentile, tend to hang on to their Accords for a long time. "I love it," she says. "It has never broken down and never let me down. It keeps getting better over the years." The base model Accord comes with a 2.4-litre, four-cylinder engine that eagerly moves the car along, but an optional six-cylinder engine can really quicken the car's pace and your own heart. A hybrid version is also available.