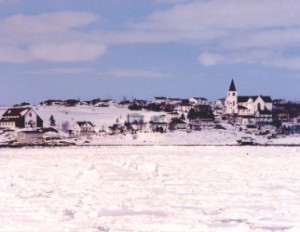 If you surf over to the Bay Roberts, Newfoundland website, you'll notice something strange. Their tourism guide — presumably the document that's supposed to entice travellers to visit the town — is from 2008. While it's likely a few tourists have stopped by the coastal town for a night, it's also plausible that so few people are coming to visit that it's not worth planning any tourism-related events. And it's hard to blame someone for not showing up — MoneySense magazine named it the worst place to live in Canada.
The town is one of the three cities from Atlantic Canada that can claim the dubious distinction of landing in the Best Places to Live list's bottom 10; six others are from B.C. and one from Quebec.
With 179 cities on the list, landing dead last, or near last, isn't easy. According to MoneySense's data manager Phil Froats, the big reasons why Bay Roberts, Williams Lake, B.C., Port Alberni, B.C. and the rest of the sad sack lot are at the bottom is because of high unemployment, low average household income, negative population growth rates, a dismal culture industry and, for the most part, high crime. (Update: Just want to point out that Bay Roberts actually has the lowest crime rate of the bottom ten cities. In fact, it's overall crime rate ranks 39 out of 179, so it's a fairly safe place. The other towns, however, don't do as well in that category.)
Each of these categories, plus the myriad other data sets, are assigned a point total, with 105 being the maximum number of points. Ottawa, which topped the list captured 73.5 points; Bay Roberts wound up with 31.45. (The top 10 had point totals between 66.42 and 73.5; the bottom ten was between 39.93 and 31.45.)
Unfortunately, these places won't be surprised at where they ended up. They're perennial losers — New Glasgow N.S., which holds the 177th spot, was last in 2009, while Port Alberni, now at 175, claimed the bottom position in 2008.
Traditionally, it's B.C. and Atlantic Canada towns that usually end up near the back of the list Froats suggests that's because of bad weather and sagging industries. "It's either very damp or very cold in B.C.," says Froats. "And the province has all the logging towns."
According to Froats, Summerside, PEI, which claimed the 172 spot, was hurt because the military, which once used the town as a base, pulled out years ago; Prince Rupert, at 173, has seen its fortunes decline thanks to its underused port.
But all is not lost for these troubled towns. Landing a major industry outside of their traditional sources of income — like Moncton did with call centres — could immediately revive these locales. "If Cape Breton can get a big boat building contract, or something like that, it would do very well," says Froats.