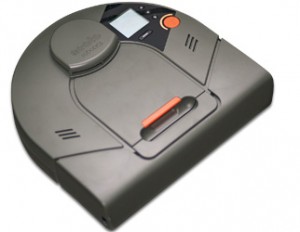 They're sleek and smart, and spotless floors are their specialty. Robot vacuum cleaners have evolved from cute gadgets into capable cleaners in their own right: Newer bots can size up a room, decide which spots need more elbow grease and recharge themselves, all while skirting pets and stairs.
These Jetsons-style cleaners deal with everyday dust, dirt and pet hair and are "suited for anyone who doesn't have time to clean, as well as older homeowners who can't vacuum anymore," says Julie Gendron, domestic robot specialist at RobotShop Canada.
But which model is best for your floors? Or your wallet? Some bots may be independent—they can clean while you're out—but they still need care. Depending on how hard they're working, they may need new filters every four months, fresh brushes once a year and the occasional new battery, which can boost the original cost. MoneySense sized up the power, the pricing and the ultimate robot victor of four popular models under $500.
Neato XV-11 | $410
Neato knows exactly where it's going, thanks to lasers that map rooms and plan a cleaning route, always noting new obstacles as it vacuums. A square-nosed design helps it get into corners and along baseboards, where sturdy blade brushes and strong suction provide good cleaning power. Notably, the Neato has the edge on the traditional upright on one key front: users can program it to clean at a specific time every day.
Fully charged, the bot cleans up to 2,000 sq. ft. of hard flooring or carpet. Although it detects doors and can go from room to room, users can create "no go" zones with magnetic strips (Neato comes with one magnetic strip; additional strips are $30).
Maintenance: You can rinse the filters at home, but a pack of four new ones runs $20. Brushes last longer—up to a year if cleaned regularly—and their replacements are $42. Neato comes with two batteries and replacing both costs $65.
Best feature: Memory. Neato heads back to its base to recharge, then returns to where it left off to finish the job.
Roomba 560 | $450
Roomba uses sensors to guide itself through a room, steering away from stairways. Tight spaces are its specialty—its three-inch height helps it get under furniture, while side-brushes hug walls and nestle into corners. It automatically adjusts brush levels according to the type of flooring or carpet.
Roomba can be scheduled to clean unattended and returns to its docking base on its own to recharge. This bot cleans up to 1,200 sq. ft.—about three large rooms—and can last for three hours on hard surfaces and slightly less time on mixed flooring. To keep it from wandering, owners can block certain rooms with infrared signals that act as virtual walls (two walls included).
Maintenance: Regularly cleaned brushes and filters will last longer, but three replacement filters cost $25 and a new battery is $120.
Best feature: It "hears" extra dirt. Sound waves bounce off heavy debris, prompting the Roomba to pay special attention.
Dirt Devil Whiskers | $200
Whiskers is designed for hard floors and works best in enclosed spaces. Sensors guide it though a room, where it uses prominent side brushes—or "whiskers"—to clean up.
This inexpensive bot is best suited for simple but thorough cleaning. It runs for about 50 minutes at a time, following a three-stage cleaning pattern: first it makes a general sweep of the room, then goes over everything in a circular pattern before sidling up to walls to get at baseboards and corners. It still needs a little help—it must be manually started and isn't programmable.
Maintenance: Users should clean dust bins, shake out brushes and rinse the filter after every use. Replacement brushes are $20 and filters $10.
Best feature: Whiskers can easily slip under beds and low furniture for easy cleaning.
Mint Plus | $320
Mint has a novel look and a different mission: the square cleaner sweeps and mops hard floors using disposable wet and dry floor cloths. This bot is also observant: Mint's indoor GPS determines the size of the room and its sensors map a path, guiding it under chairs and tables and away from carpets; its mop setting lets it tackle really dirty floors for up to 2.5 hours. However, it's not as independent as others—it can park itself once it's done, but must be started manually and can't clean on a programmed schedule.
Maintenance: Mint uses disposable cleaning cloths, such as the Swiffer brand, or the reusable cloths designed specifically for the device (each can be washed and reused hundreds of times). A replacement three-pack of Mint cloths (two dry, one wet) is $25.
Best feature: Its navigation tool tracks where it's been and what still needs cleaning.
The verdict
Assuming that you replace the brushes, filters and battery at least once a year, the Neato XV-11 is tops on our list. Even though it's pricier than some of the other models, its accessories are cheaper, and it can do more.