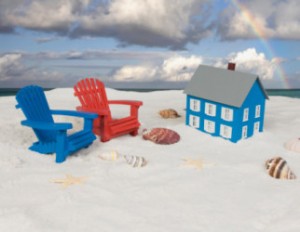 For years, Mark Crump, a 59-year-old senior project manager in Stony Plain, Alta., dreamed of taking long vacations in faraway places. Last spring, after a stressful contract job came to an end, he felt more desperate than ever to spend a few months in a warm climate. His only dilemma: he didn't want to spend a lot of money.
Crump found the solution in The Caretaker Gazette (US$29.95 a year), a newsletter that matches property owners with people willing to live in their homes and take care of them. Reading it online one night, Crump came across an ad placed by a retired Belgian doctor looking for someone to look after his ocean view vacation home in Costa Rica. "I emailed and told him I was interested. We hit if off right away." In return for some light housekeeping—cutting the grass, feeding the dogs, cleaning the pool—Crump could stay at the doctor's home for free. He bought a plane ticket the next day.
Caretaking positions can last from weeks to years, depending on the job, says Gary Dunn, Texas-based publisher of The Caretaker Gazette. Many require no previous experience. "We have a lot of people who've hit hard times and lost their jobs. But they still want to travel the world. As caretakers, they can."
The listings on Dunn's website read like an upscale travel catalogue—horse farms in New Mexico, seaside homes in Hawaii and centuries-old farmhouses in France. The pay can range from a free place to stay for a few weeks to over $100,000 a year.
Once you find a place that interests you, call the property owner and ask for references from people who've taken care of the house before. Get something in writing that spells out the duties you'll be expected to perform, the salary, and whether you'll be responsible for any costs during your stay.
Crump didn't earn any money for house-sitting in Costa Rica, but he barely spent any either. "Everything was so cheap. A buck for an ice cold beer and four dollars for a complete meal. Believe me, travel doesn't get much better."