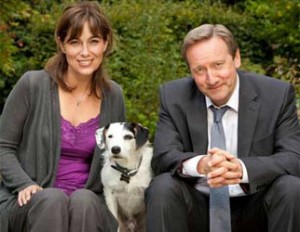 Sometimes you learn about important financial concepts in the strangest places. I was watching one of the new instalments of British police show Midsomer Murders last night when the line I've used as the headline came up.
If you're a fan of the old Midsomer Murders you know the previous crusty chief inspector Tom Barnaby retired but happily the show has not. It has created a replacement also bearing the surname Barnaby (a younger cousin named John). In the course of introducing his wife Sarah—who is along the lines of the previous long-suffering Joyce—there was a dialogue in which the new Barnaby suggests Sarah doesn't have to keep her teaching job but could retire and they could live just on his modest salary.
"What, poverty and boredom at a single stroke?," she retorted, drawing a laugh from this viewer and his own long-suffering wife.
That was it for the "retirement" content as the show had to get back to its ongoing focus on depicting what has to be the most bloodthirsty fictional British village in the entire Commonwealth.
Yet the phrase lingered in my mind, seeing as one of the features we ran in the November issue of MoneySense was "Is Retirement Overrated?" In fact, the phrase brought back a conversation I once had with the Financial Post's Family Finance writer, Andrew Allentuck, who continues to labour in the trenches of financial journalism even though he has reached the traditional retirement age. "Retirement is boring," he told me, adding that the financial side of continuing to work is compelling: "The more you work, the more money," he said, or words to that effect.
So despite all the hype about early retirement, it's worth mulling over these matters, particularly if you're not certain you've saved enough and if you actually enjoy your job or career most of the time.
Would poverty and boredom be the result of pulling the plug on your career too early? Remember that the theme of this blog is that financial independence does not have to equate to retirement. In fact, I said just that in this recent blog: Do you desire early retirement or just early Findependence?
It's worth thinking about. Either way, Midsomer Murders is an excellent show. Part 2 of the episode I saw last night airs on TVO next Monday at 9 p.m.