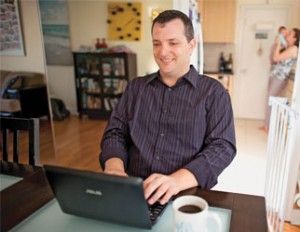 When Eran Barlev, a new immigrant from Israel, opened his first bank account in Canada five years ago, he didn't understand why the bank wanted to set up his wife Ella with her own credit card, rather than taking out a second card in his name. "They said it would be good when we bought a house," says Barlev, a 36-year-old technology trainer who lives in North York, Ont. "That was so far away in my mind, but we did what they recommended." Several years later, when the couple went to a mortgage broker to finance their first home in Canada, the broker was surprised to find that both newcomers had excellent credit scores. By using their own credit cards regularly, and paying all their bills on time, the couple was able to get approved for a mortgage and get a competitive interest rate. The North York bungalow they purchased is now home to four: Eran, Ella, their two-year-old son Ilai, and their brand new six-week-old daughter Rona.
The credit system in Canada is notoriously unfriendly to newcomers. Immigrants are often disappointed to learn that their credit histories in their home country are worthless. For some, the whole idea of building up a good credit history is foreign. "Building credit is the number one challenge for my clients who are coming from China," says Wendy Seto, a private banker with RBC. "They don't understand the concept of credit history, because back home, you show you're capable of paying a debt by having a big deposit in your bank account, not through your payment history."
Your first Canadian credit card
If you're still in your home country and planning to immigrate to Canada, it's worth looking at developing a relationship with a global bank. HSBC, for example, has banking packages aimed at globally minded citizens. Their Premier and Advance packages allow you to build up a credit history that will be applicable if you apply for HSBC mortgages, credit cards and loans in Canada. Depending on what country you're coming from, American Express may also allow you to transfer your credit card to Canada.
Once you arrive in Canada, try to get a credit card quickly. If you're meeting with a bank manager, bring any documents that show you have a good track record for paying your bills. Some banks have multilingual staff who can assess foreign documents.
If you're turned down, ask about getting a secured card, where you give the issuer a deposit. It's also a bit easier to qualify for cards from department stores such as The Bay and Canadian Tire, but be sure to pay off the balance each month, as these cards have very high interest rates.
If you're coming from the U.S., your credit history can't be combined with your credit history in Canada, but that doesn't always mean you need to start from scratch. Unbeknownst to many, "the credit card company here can actually call the credit bureaus in the U.S. to get your credit history," says Camon Mak, director of multicultural markets at RBC. "It's not perfect, but in the majority of cases, it's simpler than if you're coming from another country."
Once you've got a card, be sure to use it. "New immigrants who aren't used to having credit cards tend to use it only for emergencies," says Nick Noorani, an immigrant entrepreneur who gives workshops on the secrets of immigrant success in Canada. "If you keep the card in your wallet and don't use it, you're not building your credit. When you get a card, start using it every month and pay off the entire amount each time."
Rodolfo Martinez, a former financial planner and current executive director of the Ontario Immigrant Network, advises newcomers to take out one or two credit cards or lines of credit that total around $3,000. "Make sure you make at least the minimum payment each month, and if you have to carry a balance, never let it go over half of your available limit."
The irony is that once immigrants do establish a good credit rating, they can be flooded with credit card offers. At first Fernando Margueirat, an immigrant from Buenos Aires, Argentina, was rejected from getting a card at virtually every major bank. But after finally getting one and using it responsibly for a few years, he was swamped with applications. "It was kind of comic, because I got excited and started applying for cards. At one point, I had twice my annual salary in credit." Margueirat decided to close some accounts before applying for a mortgage: a wise move, as mortgage lenders assume that people with access to too much credit are at risk of defaulting.
You always need to remember that while credit is important in terms of getting established in Canada, it has also driven many into a cycle of debt that has crippled their future. Credit card interest rates in Canada are high compared with other sources of debt, so never purchase something on a card that you can't pay off quickly. You can find the best card based on your spending patterns by visiting our website at: www.moneysense.ca/creditcards.
Read the next part in the series: A home of your own
Our sister site, Advisor to Client, also has financial information for new Canadians in Chinese, Hindi and Punjabi