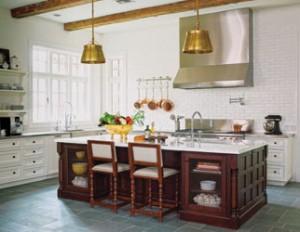 So, the kitchen is the heart of the home. Well and good. Mine features an ancient, arrhythmic oven, a wheezing fridge, and a dishwasher that leaks oil. Pots and pans are on life support—bottoms bulging, handles bent or missing—and not one of my low-end, neglected knives retains enough of an edge to worry a ripe tomato. It's sad, really. My kitchen is unwell and needs a bypass. Perhaps yours does, too.
But where to start? You can spend vast sums not only for major appliances like ranges, fridges and freezers, but even on basics like cookware and blades ($400 for a Japanese sashimi knife, anyone?). The proliferation of TV cooking shows—often sponsored by kitchen supply companies—is creating severe gear-and-gadget envy among home cooks, with the result that it's becoming ever more difficult to differentiate the essential from the extraneous, the form from the function.
Yet it is still possible to create a professional-calibre home kitchen without breaking the bank. Here's how.
Set a budget
For serious home cooks, kitchens are emotional investments, and it's easy to get carried away, so setting a spending limit in advance enforces a degree of discipline. "If your entire budget is $10,000, you can't spend it all on a top-of-the-line range," says Mario Ramsay, coordinator of the culinary program at Algonquin College's School of Hospitality and Tourism.
But if you're in the market for high-end appliances, like Ottawa-based home renovator Brad Connell and his partner Dave Cameron, be prepared for sticker shock. "When it comes to top brands like Wolf or Viking, there's really no point in shopping around, because the prices are set by the manufacturers," says Cameron. "You can get a break if you buy floor models or demonstration models, or by sourcing used models from the U.S., but these options will void your warranty." So, if you want top drawer, prepare to pay top dollar: $12,000 to $25,000 for a Wolf or Viking range, and many, many thousands more for matching refrigerators, dishwashers, warming trays, hood fans, icemakers, wine coolers and the like. If you're willing to compromise, brands like GE Professional and KitchenAid offer well-designed, high-quality appliances for much less—GE Professional ranges start at $1,500, while fridges start at $1,100.
Dinner for two… or 20?
Another way to approach the problem is to think carefully about what you really need, says Ramsay. "Before you start shopping for 10-burner ranges and commercial refrigerators, ask yourself how many people you're going to be cooking for on a regular basis. Is it just you and your family, or are you planning on doing a lot of entertaining?"
It's a critical question: the difference between a four- and eight-burner stove can be measured in the thousands of dollars. On the other hand, if you undersize your appliances with an eye toward saving a few bucks, you'll end up frustrated and likely have to upgrade again later.

Islands in the steam
A cramped kitchen is an unhappy kitchen and the most common complaint of home cooks. Older homes in particular often feature small kitchens, hampering efficiency and detracting from the overall cooking experience. If a wall separates the kitchen and dining room, consider knocking it down and replacing it with an island.
"Islands are not only great for food prep and a second sink, they're a place for guests to sit and socialize with the hosts while they do the cooking," says Ramsay. "Remember that a kitchen is an entertainment centre. It's where the action is."
When Connell and Cameron set about designing their dream kitchen, they considered installing two islands: one for cooking and food prep, and a second for entertaining. "The second would act as a kind of chef's table, allowing our guests to see what's going on in the kitchen, while keeping them from getting in the way," says Connell.

The shape of things
In any kitchen there are three main work areas—sink, stove and fridge—and for maximum efficiency these should always be situated in a triangle. "A triangular layout means you're never more than a couple steps from any work station," says Ottawa-based television producer and amateur chef Chris Knight, whose company, Knight Enterprises, is about to roll out its own cable food network. "In fact, if I was looking for a new kitchen I'd want to put the dishwasher next to the cupboards."
Says Ramsay: "If both the husband and wife like to cook, I'd consider dividing the kitchen into hot and cold stations: one for cooking and one for food prep and salads, just like a commercial kitchen."
His ideal setup would also boast two, or even three, sinks. "When it comes to sinks you can't have too many, and the deeper the better. That way you avoid splashing and you can clean even the biggest pots. Oh, and make sure you have one of those retractable hoses for rinsing—they're hugely useful."
Home and the range
You can't have a great kitchen without great cooktops and ovens, and there is much to consider: electric or gas, separate or integrated, built-in or standalone. "Separating your cooktop from your oven is something I'd consider, provided you have the counter space," says Knight. "It allows you to install your oven at shoulder level, instead of having it under the burners, where you have to bend down every time you want to use it."
As for the perennial question "gas or electric," it's pretty much of a no-brainer for anyone with serious culinary aspirations. "Definitely gas," says Knight.
Convectional thinking
Because convection ovens use fans to circulate heat over and around food, they eliminate the hot and cold spots that plague conventional ovens, promoting fast, even cooking. "I never use anything but convection ovens because they save you at least 20% on cooking time compared to conventional ovens, and the food comes out evenly done every time," says Ramsay.
Moreover, because they heat up so quickly, they can reduce or eliminate the need for preheating. But don't think you can get away with just one. "You definitely want two ovens if you're going to be entertaining," says Ramsay. "You can cook in one and keep food warm in the other, or cook meat in one and bake in the other."
Cool fridges
When it comes to fridge and freezer units, the rule is freezer on the bottom. "Think about it," says Knight. "You make 20 trips to the refrigerator for every trip to the freezer, so get one that makes sense in terms of efficiency and ergonomics." Rule No. 2: an empty fridge is an inefficient fridge. "It takes more energy to chill a half-empty space," says Ramsay. "It's the same principle as people huddling together for warmth, except it's food huddling together for cold."
The cutting edge
"When it come to knives, I'd go for quality over quantity," says Knight. "Instead of spending $2,000 on a full set, buy a chef's knife, a paring knife and a bread knife. That's all you really need." Even then, the only one where quality is vitally important is the chef's knife, or French knife: an eight-inch, curved and tapered blade with a well-balanced, comfortable handle. "A great chef's knife will be your best friend in the kitchen," says Knight. "Don't just buy one on sight, pick up several and handle them in the store. Like golf clubs, they have to feel good to perform well."
And don't forget to buy a knife sharpener. There are a number of good, easy-to-use models—both electric and manual—that are readily available at high-end kitchen supply stores. If you're really fastidious about your blades, however, Ramsay recommends getting your knives professionally sharpened every three to six months at the same store where you bought them.
Pan handling
Stainless steel is great for durability and cleaning, but not so great for conducting heat, says Knight. "Ideally what you want is stainless steel with an aluminum or copper core to promote even, fast cooking and eliminate hot spots." Home cooks should also own a couple of non-stick skillets for delicate foods like fish or eggs. "I'd never try cooking eggs in anything other than a non-stick pan," says Knight.
As for cast iron, it remains a favourite of chefs because it's a great heat conductor, says Ramsay, but you have to be careful around ceramic or induction elements. "They're so heavy that if you accidentally drop one you could crack your $400 cooktop."
The best of the rest
A stroll through any kitchen supply store will turn up thousands of specialty appliances and gadgets, some useful, some not. "My favourite new toy is a high-speed Vitamix blender—the Porsche of blenders," says Knight. "It generates so much energy that I can drop in cold vegetables and pour out hot soup a minute later."
Says Ramsay: "The one item every professional chef has, and that I wouldn't want to do without, is a Japanese mandolin, or vegetable slicer. Also a good hand blender for pureeing soups, and a KitchenAid mixer, which is a real workhorse because of all the attachments you can get."
"Believe it or not," says Cameron, a tad sheepishly, "I love my George Foreman grill. It's not just a TV gimmick, it's a great little appliance. It can cook a butterfly pork chop in three minutes, and for homes like ours that aren't barbecue friendly, it's a great alternative." Also consider buying a grinder (for spices, nuts and coffee beans) and a pasta maker.
There's no end to the possibilities when it comes to kitchen accessories and accoutrements. But as I survey my current scratch-and-dent galley and imagine it all gleaming and new, I'm struck by a troubling thought. Won't guests, upon spying the new range, the copper pots and rest of it, come to the conclusion that I must know my way around such a fine kitchen? And therefore that gourmet eats are in the offing? And, as someone who once baked apple crumble with one cup of salt and a pinch of sugar, should I really be raising their expectations?