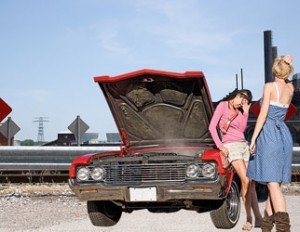 It wasn't long ago that having a membership in the Canadian Automobile Association was as essential for Canadian drivers as a set of keys. But today, cars are more reliable and cell phones have made it easier to get help if you're stranded. Plus, many vehicles come equipped with OnStar's roadside assistance. So is the CAA still worth it? We decided to crunch the numbers to find out.
As a starting point, I reflected on my personal 10-year membership in the CAA. I'm not a frequent traveller, and my benefits really only amounted to a few maps and a handful of discounts on hotels and tourist attractions. Despite driving an older vehicle, I made only a couple of service calls, all of them for battery boosts during cold spells. However, the wait times were long and it was quicker to get a jump start from a friend. That's why when my CAA membership came up for renewal several years ago, I decided it wasn't worth it.
A basic membership, which CAA recommends for people who drive or travel infrequently, costs about $150 per year for two drivers. Members can make four free emergency roadside service calls per year, and get maps and discounts on some attractions. Other membership levels offer more benefits, but also cost more.
If you drive a reliable car mostly within town, you'll likely find it cheaper to pay as you go if you need assistance, as I do. It's a good idea to carry a portable booster pack for your battery and to store the number of a tow-truck driver in your cell phone.
If you travel out of town frequently or drive long distances, roadside assistance may be worth it, but check first to see if you already have it. Many car manufacturers include roadside assistance when you buy a car, and often credit cards offer it as a benefit. If you do need to pay for the service, shop around: many retailers, credit cards and cell phone companies now have roadside assistance plans.