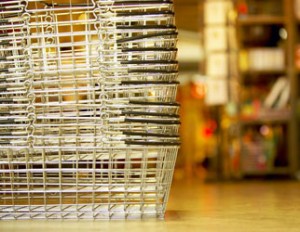 Ever since Extreme Couponing arrived on television, Canadians have been wailing about the fact that we can't walk out of a supermarket with a basketful of goodies for a mere buck sixty-two. So that makes couponing a total waste of time? No it doesn't.
You can save anywhere from 10% to 30% by clipping coupons even here in the great white north. Hey, that's not peanuts, and it sure is a great way to offset the steady climb in food costs—have you noticed the incredible shrinking package phenomenon?—we've been witnessing for the past few years.
Sites like MrsJanuary.com will give you a heads up on what you can get at the various couponing sites. Want to go straight to the horse's mouth? Bookmark sites like well.ca, save.ca, brandsaver.ca, websaver.ca, smartsource.ca, flyerland.ca and gocoupons.ca. Some sites will let you print coupons; some will mail them to you, so you have to do some planning. Some manufacturers will let you access coupons if you register on their website. If you're worried about being buried in emails, simply set up a free email address somewhere like Gmail or Hotmail and then use that addy for when you register anywhere that's likely to put you on a list.
Don't just throw out the flyers delivered to your home because you don't usually shop at that store. You don't have to drive all over hell's half acre if you shop at a store that price-matches. Just bring along your flyer as proof of a lower price and the store will match the savings.
Use what's on sale to create your meal plan for the week and you'll save big-time.
I categorize coupons and points together. If you belong to your store's loyalty program, you can translate past shopping into future savings. And if you belong to a program like Air Miles, you can buy liquor, gas and drugstore items and have them translate into savings on food. Hey, don't just swipe those cards to collect, turn those points into real money. And never mind holding up the line while you save money, that's the store's problem for not having enough cashiers open, not yours for being a smart shopper.
Resist the urge to "do anything to save." If you end up buying crap you'll never use or you buy too much and have to throw stuff away, that's no savings at all. And as for those alluring "2 for $5" signs that have you picking up two things when you only need one, don't. At the checkout you'll be charged half the cost if you buy just one, so don't waste money on a perceived deal that isn't.