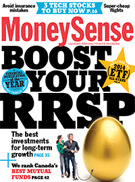 This issue's annual RRSP package is chock full of new content. In fact, there's so much to say now about RRSPs and TFSAs that next year we plan to add an issue in the RRSP season.
The key is to make regular RRSP contributions and not succumb to analysis paralysis. The "overthinking" headline above is adapted from Preet Banerjee's new book, Stop Over-Thinking Your Money. The first time I met Preet, it was because of an RRSP book he self-published during my earlier career as a newspaper columnist. He's come a long way since then!
As regular readers know, Preet—like Dan Bortolotti—is an award-winning personal finance writer. He's a popular TV personality and speaker and his articles provide excellent content you'll see nowhere else. An example is his ground-breaking piece in our November issue on the true state of affairs in fee-only planning. You can find it and our revised fee-only planning directory at moneysense.ca.
With this issue, we've added Preet to the masthead as a contributing editor. We've also introduced a new insurance column, written by James Daw. Not only is James a veteran newspaper columnist, he is also a Certified Financial Planner (CFP) who is well acquainted with the insurance industry: the plan is to cover everything from life insurance to property and casualty to annuities. Welcome, James! ("Jacks on Tax" will be back in April with a double tax package.)
Another regular contributor/author is "Ask MoneySense" columnist Bruce Sellery, who's released a new book called The Moolala Guide to Rockin' Your RRSP. We run an excerpt here. It lists the many lame excuses Canadians come up with for failing to make regular annual RRSP contributions.
Bruce and Dan starred at a well-received ETF learning event held in partnership with iShares in November. We plan to have all these author-gurus (including Preet and stock wizard Norman Rothery) in one spot at a special event this spring to celebrate MoneySense's 15th anniversary. Details to come.
This issue features the second annual crop of MoneySense's ETF All-Stars, written by Dan, assisted by an expert panel. The RRSP package also marks the return of our former mutual fund columnist Suzane Abboud. Her annual Best Mutual Funds feature has run in MoneySense since 2001. Despite our growing coverage of ETFs—and as senior editor David Hodges wrote in our summer 2013 issue ("Mutual Funds Rediscovered")—there's still a role for equity mutual funds in the portfolios of many readers. The key is to avoid index-hugging mutual funds that claim to be actively managed but merely track indexes.
Also in the package, David gives our readers makeovers of their RRSP portfolios. Fee-for-service financial planner Fred Kirby makes his MoneySense debut with a column on why investors in quality dividend-paying stocks don't need to worry about market crashes. For those who prefer cash or bonds, we asked fixed-income columnist Pat Bolland to identify which types of fixed-income investments make most sense for RRSP investors in this era of protracted near-zero interest rates. I've also written a "Financial Independence" column on the high cash levels some value mutual fund managers are holding.
So as the March 3 RRSP deadline looms remember two things: no excuses and don't overthink your RRSP!