Updated on Jan. 23, 2014.
Half of Canadians 50 or older expect to run out of money within a decade of leaving the workforce, says a study released this morning by the Investor Education Fund (IEF). Furthermore, 19% of this group have no idea how much they've saved for retirement.
The study—titled Home Equity as a Source of Retirement Income—found 41% of homeowners had saved under $100,000 towards retirement, although 31% has managed to salt away a respectable $250,000. Prepared by the Brondesbury Group last month, the study also found that when homeowners were given five ways to extract equity from a  home—via downsizing, selling then renting or tapping a Home Equity Line of Credit—41% were unwilling to do so.
All the 1,500 people surveyed were 50 or over and were homeowners at some point in their lives. Half were already retired. Almost one in four (24%) of the homeowners surveyed expect to have debt on their home after retirement, to the tune of $71,000 (the median debt).  Almost half of this group expected to pay down that debt from retirement income, while 27% didn't know how they will pay it off.
IEF president Tom Hamza views carrying debt into retirement with some trepidation, as do I: "Retiring with debt puts extra strain on your income," Hamza said in a release, "If you go into retirement with inadequate savings in the first place, you may be on shaky ground."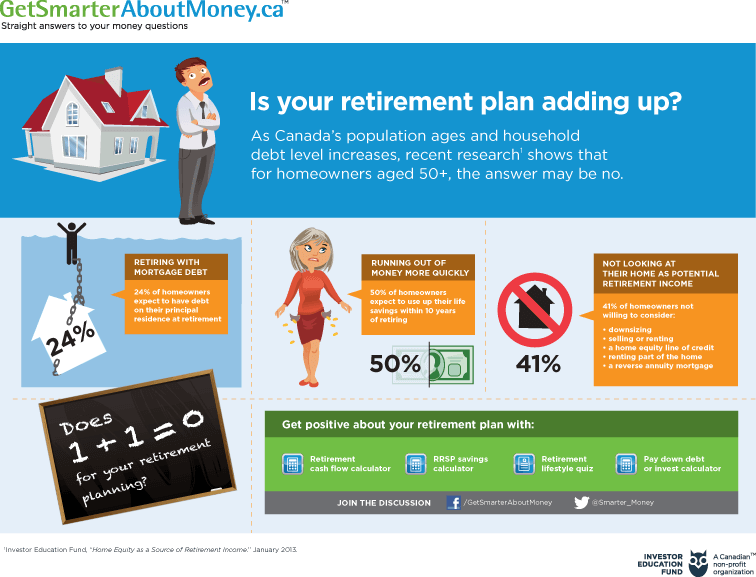 My own view is that anyone still in debt has no business fantasizing about retirement. And if you're worried about your money lasting only 10 years, you'd be better off delaying retirement until you feel confident your nest egg will last the better part of 30 years. The longer you work, the more your savings, the more the opportunity to eliminate debt, the bigger the payouts from pension plans (including CPP and OAS), and the more time your money has to grow. And just as powerful, every extra year in the workforce means one less year of drawing down on your savings.
The IEF has launched a retirement cash flow generator at its website, GetSmarterAboutMoney.ca. It has also updated other tools on the site, including an RRSP savings calculator, a "pay down debt or invest?" calculator and a retirement lifestyle quiz.
The RRSP deadline the 2013 year is this March 3, 2014.
P.S. I should mention that in addition to this blog, I occasionally blog for the IEF.