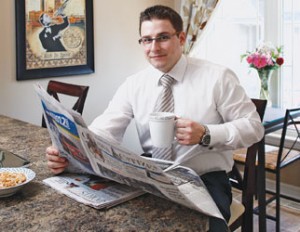 The goal: Recent graduate James Fisher's goal is to be worth $1 million by age 50.
The current situation: When 24-year-old James Fisher graduated with a degree in business administration three years ago, he started working towards his lifelong goal of having a net worth of $1 million by age 50. "I've been interested in money since I was a boy," says Fisher, who lives in Ottawa. He paid off his $21,000 student loan with money from his $52,000 salary and $10,000 bonus from his job as a bank manager. His parents helped by giving him a 20% down payment on his $300,000 condo—he's renting out a bedroom for $550 a month to help with the mortgage. James currently has a net worth of $132,600, most of which comes from the condo.
Right now James is saving $500 a month and he plans to invest his annual bonuses as well. He won't make any more RRSP con- tributions, however, because he doesn't like the idea of having a large tax liability in the future. James has $6,600 in an RRSP and $6,000 in a non-registered account, mostly in exchange-traded funds. "I'm concentrating on the equity markets," says James. "That's where I believe good future gains will be."
The verdict: James should be able to meet his million-dollar goal, as long as life doesn't throw him a curveball, says Jason Heath, a fee-only adviser and partner with Objective Financial in Toronto. If James increases his current savings in line with future pay raises, he will actually have close to $2 million at age 50, assuming an annual rate of return of 6%. However, this would require him to invest using RRSPs: although they result in tax upon withdrawal, they also provide a tax refund that James could reinvest. If he continues investing outside his RRSP, he'll have $1.6 million by age 50. Heath reminds James that he'll keep more of his returns by maxing out his Tax-Free Savings Account (TFSA) before using non-registered accounts.
What could throw James off track? Marriage, kids and a bigger home could put a wrench in his plans. And don't forget, $1 million in 26 years will be worth about $598,000 in 2012 dollars, assuming 2% inflation. While that's not pocket change, it may not provide James with a millionaire's lifestyle.
The breakdown:
ASSETS
-Condo $300,000
-RRSP $6,600
-Non-registered investments $6,000
-Total assets $312,600
LIABILITIES
-Mortgage (at 4%) $180,000
-Total liabilities $180,000
NET WORTH: $132,600