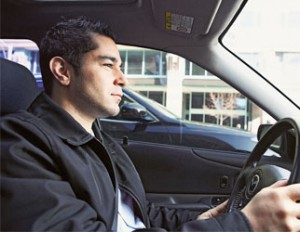 To get the best car insurance rates you usually need a driving history that proves you're worthy of low premiums. But what if you had "live" proof—like a character witness—that showed you deserved a better rate? And what if your car was the witness?
It's not as far fetched as it sounds. Toronto's Mark Skaff recently enlisted his 2003 Mazda Protégé Sport to vouch for him when he joined a trial Pay-How-You-Drive (PHYD) insurance program. He agreed to let his insurance company monitor how he drives using a small electronic recording device in his car, and in return his provider offered him the opportunity to lower his insurance premiums.
Skaff only uses his car to haul groceries and run errands. For the past two years, he shared the tracker data with his insurer every six months. "I knew I would save something," he says, but the outcome still surprised him.
Such Pay-As-You-Drive (PAYD) and Pay-How-You-Drive (PHYD) programs are slowly gaining popularity in the U.S., but they're not widely available here—yet. Both rely on telematics, or remote information exchange, using trackers and a car's on-board diagnostic system to create a clearer picture of your driving habits. The system lets your insurance company monitor how often you drive, when you drive, and whether you make a habit of screeching to a stop or roaring down the street.
The program Skaff enlisted in—the only one in Canada so far—is currently on hiatus. But once Canadian insurance companies fully commit to such programs, they would make great sense for value-conscious consumers, says Dave Huber, an insurance telematics expert, and president of Kairos Solutions. Both systems are user friendly: drivers can plug the trackers into their on-board diagnostic (OBD) port themselves. And sharing the information is equally easy. Skaff uploaded his data into his home computer, and newer systems do it wirelessly.
Depending on the policy, a PAYD or PHYD program "could save 20% to 40% if the telematics confirms that you don't travel at night and you are a cautious driver," says Clem Driscoll, a telematics expert and managing partner at C.J. Driscoll & Associates in Los Angeles. And a few wrong moves won't cost you. "Companies who offer this are saying, 'we will not raise your rates based on the info we gather.' Even if you're not the safest driver, it won't hurt you," he says.
Some worry about the Big Brother aspect of tracking, and it's a valid concern. Although the programs don't record where you go, they do record a lot of personal driving information, and participants should ask their insurance company exactly how that data will be used, and who it will be shared with.
As the programs gain ground here, more drivers will soon face the choice Skaff made—but he says he would do it again in a heartbeat. After all, his $1,500 annual insurance bill quickly shrank to $1,200, netting him $300 a year in savings. "Someone with driving habits that are more risky might not be comfortable sharing their information," says Skaff. "But that's exactly how low-risk drivers, like me, are able to save money."