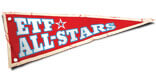 ETFs are building blocks you can use to create a portfolio that's suited to your specific goals. To help you understand how to put our ETF All-Stars to work, here are sample portfolios designed for Canadian investors at different life stages.
#24 The Beginner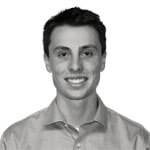 Aaron Bruyns / Engineer / Ottawa
Aaron Bruyns is a 24-year-old engineer in Ottawa who is just getting started in investing. He has both a Tax-Free Savings account and a group RRSP at work. He plans to contribute about $1,000 a month to his retirement savings, some of which will need to be held in a non-registered account. "I don't want to be a trader," Bruyns says, "and I don't want to be following the markets all the time. I just want to be a lazy investor." Our suggested portfolio includes 25% bonds, 65% stocks and 10% real estate. XWD allows Bruyns to get global exposure with a single fund; we chose HXT for his non-registered account because this ETF reinvests all dividends and defers taxes until it is ultimately sold
15% – ZCN BMO S&P/TSX Capped Composite
10%  – CDZ iShares S&P/TSX Canadian Dividend Aristocrats
30% – XWD iShares MSCI World
10% – ZRE BMO Equal Weight REITs
25% – XBB iShares DEX Universe Bond
10% – HXT Horizons S&P/TSX 60
#38 The Young Professional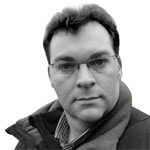 Jeff MacLeoad /TV Producer / Toronto
Jeff MacLeod, 38, has a defined contribution pension plan through work, plus a self-directed RRSP and Tax-Free Savings Account where he wants to begin using ETFs. Jeff's pension plan is invested in index funds that mirror the Money- Sense Global Couch Potato por tfolio, which is 40% bonds and 60% stocks. He'd like to use that same overall mix in his self-directed accounts, but he can diversify more broadly by including other asset classes such as real estate and emerging markets.
10% – ZRE BMO Equal Weight REITs
15% – ZCN BMO S&P/TSX Capped Composite
15% – VFV Vanguard S&P 500
10% – ZDM BMO International Equity
10% – VEE Vanguard FTSE Emerging Markets
40% – XBB iShares DEX Universe Bond
#75 The Retirees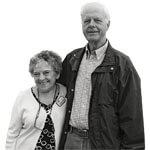 The Postlethwaites / Retired / Calgary
Jack and Odette Postlethwaite, both 75, have been retired for about a decade. With no company pensions, they live off their Canada Pension Plan and Old Age Security benefits and dip into their personal savings when necessary. About 70% of their nest egg is in nonregistered accounts, so tax efficiency and low fees are important goals. They have no specific monthly income objective. "We just draw it down as required," Jack says. Jack is an experienced do-it-yourself investor, with a relatively high risk tolerance for his age. He doesn't want any long-term bonds, and has a target of no more than 30% in fixed income and cash.
10% – Cash
10% – ZRE BMO Equal Weight REITs
20% – VSB Vanguard Canadian Short-Term Bond
20% – CDZ iShares S&P/TSX Canadian Dividend Aristocrats
20% – HXT Horizons S&P/TSX 60
10% – VTI Vanguard Total Stock Market
10% – VXUS Vanguard Total International Stock
Our portfolio building blocks:
-CDZ iShares S&P/TSX Canadian Dividend Aristocrats
-HXT Horizons S&P/TSX 60
-VEE Vanguard FTSE Emerging Markets
-VFV Vanguard S&P 500
-VSB Vanguard Canadian Short-Term Bond
-VTI Vanguard Total Stock Market
-VXUS Vanguard Total International Stock
-XBB iShares DEX Universe Bond
-XWD iShares MSCI World
-ZCN BMO S&P/TSX Capped Composite
-ZDM BMO International Equity
-ZRE BMO Equal Weight REITs