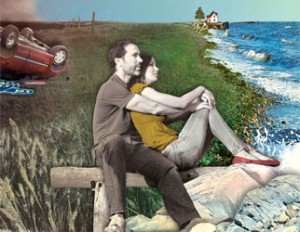 Kurt Brennan's brush with death came on a dark and lonely Alberta road last March. Brennan was driving his truck home to Red Deer from an Edmonton Oilers hockey game, and it was around midnight. "I remember I had just stopped at an A&W for a cup of tea," says Brennan, a 38-year-old computer programmer with the federal government. (We've changed all names to protect their privacy.) "The roads were slippery, and when I was 100 kms from home, the truck spun out of control. Everything after that is a blank."
Brennan's truck hit a patch of black ice and crashed into a roadside telephone pole. The vehicle was demolished and Kurt was hospitalized for three months with traumatic brain injuries. "I was tagged as 'obviously deceased' on the ambulance bill," says Kurt. "I've lost all memories of the first two months after the accident. But I continue to live and that's amazing to me now."
Kurt's wife, Marilyn, 29, remembers every detail, especially how Kurt was taken by air ambulance to Foothills Medical Centre in Calgary, where he has been receiving treatment ever since. After several brain operations, Kurt is making progress, but life will never be the same. "I'm thankful I didn't lose any limbs, and I still have both my eyeballs," says Kurt. "But much of my memory is gone, and my ability to balance myself is shot. I've also lost my hearing in one ear and can't tolerate noise."
Marilyn, a junior clerk at an insurance company, is concerned for their future. Before Kurt's accident, the couple had a household income of $116,000, most of that from Kurt's $75,000 salary. And while his condition is improving modestly, the doctors don't know if Kurt will ever be able to return to his job as a programmer. "Kurt went back to work for a day in September, but couldn't handle it," says Marilyn. "All the emails and paperwork were overwhelming. He came home after just an hour."
Before the accident, the couple had an ambitious goal. They had just sold their home on five acres of land for $420,000 and were living in a small trailer so they could be mortgage-free, reduce their expenses, and focus on saving. Their dream was to build a modest home on a 10-acre piece of land in Newfoundland that they bought two years ago. "Our goal was to move to Newfoundland in five years and live on our savings until Kurt collected his pension at 50," says Marilyn. "We'd been living really cheaply to make that happen."
While most people's lives would be in a shambles after such a tragic blow, the Brennans remain hopeful. They have no debt, they have tried to live within their means and they have a net worth of $269,0000. For now, Kurt is receiving a generous disability benefit of $4,000 a month, which is helping them get by. "The hope is that I can return to work so we can get back on track for our plan of early retirement," says Kurt.
But the Brennans worry. They don't know whether Kurt will ever be able to return to his job full-time. "We may be looking at 20 or more years where I won't be able to work and we'll have to fill that gap," says Kurt. "You never think it will happen to you. Can you help us?"
Kurt is no stranger to financial struggle. Born in Burgeo, Nfld., Kurt was the oldest of three boys. His father worked with the ferry service and his mother at the local fish plant. "We lived paycheque to paycheque," says Kurt. "I didn't learn much about money from my parents. I've had to figure it out on my own."
When he graduated from high school in 1991, Kurt left for Toronto in search of opportunity. He studied culinary arts for a year at college, and that's where he met his first wife, Sheila. After working as a cook for four years, Kurt decided to return to Newfoundland to study computer programming in Gander. "Sheila thought it would be a good move for us financially," says Kurt. "Programming jobs pay well."
Once Kurt had completed the course, the two moved to Red Deer, where Sheila had an aunt and uncle who put them up for a few months. "We were poor," says Kurt. "We needed someone to stay with until we could get on our feet." Kurt remembers how he barely had enough money to buy a bicycle. But just a few weeks later, he got an entry-level job with the federal government for $34,000 a year.
In 1994, the couple bought their first home for $89,000. That was also the year that the couple's daughter, Mila—now 17—was born. Kurt and Sheila later divorced, but remain friends today. "I see Mila all the time and have always made my child support payments," says Kurt.
In 2004, Kurt met Marilyn while she was visiting the government office where he worked. The two hit it off right away. "It was love at first sight," says Kurt, who sold the home he was living in, split the proceeds with his first wife and bought a new house with Marilyn. "It cost us $191,000, and fifteen months later we sold it for $329,000," says Kurt. "How's that for market timing?"
The couple bought five acres of land in 2006 and had a house built on it. Two years later, they drove to Newfoundland to visit family and Marilyn fell in love with the province. So the Brennans bought a 10-acre parcel of land with the dream of putting down roots. "We paid $50,000 cash for it, and my dad told me we paid too much," laughs Kurt. "We have the ocean in front of us and the mountains behind. Just before my accident, we had started clearing the lot in preparation for building."
The Brennans started living frugally and saving as much money as they could. As part of that savings plan, they sold their home and five-acre lot for $420,000, paid off the outstanding mortgage and debts and used the remaining $100,000 in cash to buy a 400-sq-ft trailer. "We have no mortgage and our property taxes are only $67 a year," says Kurt. "We cut our expenses to the bone so we'd have the cash to build the Newfoundland house."
Today, the couple has just over $70,000 in TFSAs, Canada Savings Bonds and a savings account. They plan to use that money plus another $50,000 or so to build a modest 800-sq-ft house on their Newfoundland lot. When they're ready to leave Red Deer, they plan to sell their trailer for $100,000 and pocket the cash to cover their living expenses for a few years while they get settled. "People think we're off our rocker, but we're completely debt-free," says Kurt. "The plan was to have the house bought, built and paid for in three to five years—all for about $120,000. I'm hoping we can still achieve that."
The only uncertainty is Kurt's future earnings potential. Right now, he's receiving $4,000 a month from his employer, but he's not clear on all the details of his disability insurance, and he's not sure how long the benefits will last. If they continue, the couple thinks they can save about $50,000 a year after expenses to help beef up their savings and finish building their home in Newfoundland. They'd also like to help Mila with her university costs by giving her about $10,000 a year for the next four years.
The couple's biggest fear is that the disability payments could stop, leaving them only Marilyn's modest $41,000-a-year salary to live on for the rest of their lives. "Not knowing what your future earnings will be is enough to make you suicidal," says Kurt.
For now, they're keeping their fingers crossed. "It's nerve-wracking," says Kurt. "We may have put all of our future financial goals in jeopardy. That's not good planning."
The good news is that Kurt has 13 years of service with the federal government, so even if he has to leave the workforce early, his pension payments will start at age 50. "It will be a much-reduced pension, but more than enough for us if we stay debt-free and live frugally from now on. We'll raise a few chickens and cut our food bill with a garden. We want a simple life with simple folk. I don't think that's too much to wish for."

What the experts say
The Brennans sure know how to tighten their belts when things get tough. "They're savers," says Barb Garbens, a fee-only Certified Financial Planner in Toronto. "They have pretty high goals, but don't have a high life. That puts them in a good position."
Garbens commends the Brennans for being clear about their long-term financial goals. Although Kurt suffered a life-changing injury, he is fortunate that his public-service benefits are among the best available. Families without disability insurance are much more vulnerable. "One in six Canadians will be disabled for three months or more before age 50," says Garbens. "You have to protect yourself so an accident won't completely derail your life."
Lorne Marr, an independent insurance broker and founder of LSM Insurance Services in Markham, Ont., agrees. Anyone who is working and has dependents must be adequately insured, notes Marr. "Your greatest asset is your ability to go to work every day," says Marr. "If you lose that, then disability insurance fills in the gaps." Here's what you—and the Brennans—need to know.
Find out what you have. Examine any group benefits you and your spouse have through your employers. Have someone in your HR department walk you through it. If you're self-employed or don't have coverage through work, have an independent insurance broker or financial planner assess what you need.
Learn the details. Many workplace benefit plans include disability insurance, but there is usually a cap on the benefits. For instance, if you're earning $90,000 annually, the company may replace 60% of your gross income up to $2,500 a month. Notice that the cap means you won't get 60% of your salary: you'll only get about half that.
In Kurt's case, he got lucky. "His government benefits cover 70% of his $75,000 annual income and are capped at $4,000 a month—a very rich policy," Marr says.
Also find out whether your plan covers you for disability from "any occupation" or "own occupation." The latter is much better, because under this definition, total disability means the inability to work at your regular job. If you can't manage your current duties, the plan will pay out until age 65. With "any occupation," total disability means the inability to perform the duties of any job.
Kurt is fortunate to have "own occupation" coverage. If he can't work at his regular programming job, he'll keep getting his $4,000-a-month disability payments until age 65.
Consider a private disability plan. Most employer-sponsored plans cap disability benefits fairly low, so if you're a high-income earner ($120,000 or more), you may want to consider a private disability plan to supplement your group benefits.
You may also want to consider private disability insurance if you're self-employed. Get enough to replace at least 60% to 70% of your after-tax income.
A private disability policy for a 38-year-old male white-collar non-smoker that pays $3,000 a month until age 65 (after a 90-day waiting period) would cost about $110 a month, Marr says. Payments from private disability insurance are tax-free, while the payout from most corporate plans is taxable.
Review your coverage yearly. Most companies review their disability plans annually to see if they can save money. So there will likely be changes to your group policy from time to time. "Review your plan annually and stay informed," Marr says.
Garbens says that Kurt's disability coverage is what saved the Brennans from having to give up on their dream after the accident. "The government looks after its people," she says. "Kurt will still be accruing pension benefits and years of service while on disability. For the disabled, the average salary is frozen, but years of service are not."
Her advice about the Brennans' future? "Kurt should wait as long as possible before collecting his government pension—until 65 if he can. Until then, his disability payments of $4,000 a month will continue if he can't perform his job. Disability coverage doesn't get much better than that."