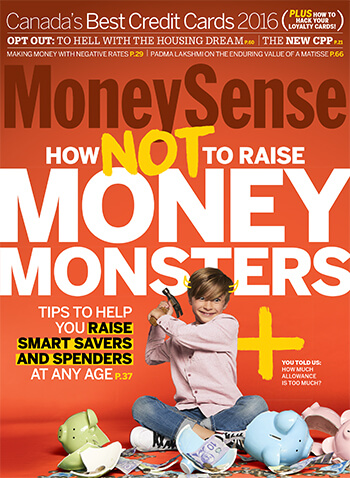 'I'd spend it on Lego…' That's Wyatt, 6, who you'll meet in our cover story. He's explaining what he would buy if he had a million dollars. Zayin, 9, would get "lots of dogs" and Mya, 14, would "buy a saxophone." Money is all about decisions. In this issue we help you teach your kids to learn to make smarter ones.
Learning about money—whether it's saving or spending, setting financial goals or buying investments—is a life-long process. But in "How not to raise a money monster" (page 37) we've carved it up into subjects you can tackle with your children at various ages, from their first allowances to opening a tax-free savings account before college. The key is to start 'em young and keep 'em at it. They will love you for it, eventually.
The package anchors a complete redesign of MoneySense. Our extraordinary design team, headed by art director John Montgomery, has spent the summer giving the magazine a sharper look and personality. We hope you like it.
Of course, reading habits are changing and the next generation of readers might never even pick up a physical magazine. But we know that the number of Canadians turning to MoneySense for answers is growing dramatically—and they are doing it mostly online. In June alone we tracked our content reaching more than 1.3 million unique online readers, who racked up an eye-popping 8.3 million page views.
Those audience numbers included distribution of our content on partner sites, so they don't all count toward official audited circulation, but every added click on our content is further proof of our growing reach.
In redesigning the magazine, one of the goals was to give added space to priority areas of content and there are a few key areas in the magazine where readers can look forward to more. For one, we've added an Invest section, to give readers richer and deeper coverage on what's becoming a growing focus in our coverage online as well. You will find our roster of great investing columnists—Norm Rothery, Dan Bortolotti and Tom Bradley—as well as new features in the expanded section.
We've also added to our coverage of homes and real estate in the opening section of the magazine (Start, page 9). Real estate has become a national obsession—and not just in Vancouver and Toronto. Our coverage, anchored by senior editor Romana King, tackles everything you need to know about buying and selling a home, but also goes much deeper, to make you smarter about all those spending decisions you need to make after you buy your dream home and move in.