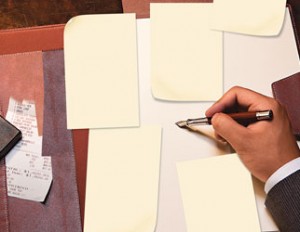 Where there's a will, is there a lawyer?
Can you get away with a basic do-it-yourself will, or do you need a lawyer? A pre-packaged will kit may suffice for the simplest cases.
However, estate law is extremely complex, says Michael Prsa, an estate lawyer in Brampton, Ont. "I've seen many situations where one wrong word in a so-called 'simple will' has led to a major mess." Expect to pay a lawyer around $350 for a garden-variety will, more if detailed tax planning or bequests are involved.
Hunting and gathering
Before drawing up a will, make a list of all your assets, what they cost, what they're worth, and where they are located. (Assets held jointly, such as a house or bank account, may not be covered by a will.) Then list your intended beneficiaries, their relationship to you, where they live and how old they are. If you want to leave bequests to charity, find out their exact names and addresses.
Get educated
A will is your chance to decide what happens to your stuff once you're gone. But there are rules limiting your ability to ignore certain people. Children from an earlier marriage or an ex-spouse may have a claim on your estate, even if you'd rather they didn't. Leaving them out of your will could lead to protracted legal claims and unnecessary confrontations between your heirs later on.
"You should carefully consider the practical and emotional impact of your will," says Prsa.
The right person for the job
One of the most important decisions is picking the executor who will carry out your final wishes. Most people pick a spouse or adult child, but "this can get very complicated very quickly, particularly in blended families," says Prsa. In some cases, it makes more sense to pick a neutral third party or a trust company.
It's also smart to provide alternate choices for your executor, the proposed guardian of any minor children, and your beneficiaries.