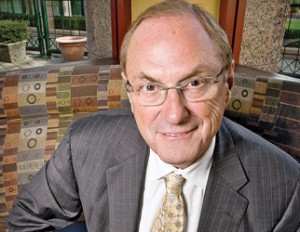 Whether you're investing in stocks, real estate or a fledgling business, you've got to do your homework first. Passion and instincts just aren't enough. You've got to size up the risks involved and have a firm understanding of what you're putting your money into. Key, too, is continually assessing what you're doing—right and wrong—in order to make necessary adjustments and to determine when you need help. Above all else, be patient. Nothing happens overnight.
I first got involved with Boston Pizza in the 1960s while working in Edmonton as an RCMP officer. I went in for pizza and loved the place. Great food, line-ups out the door—I hung around there a lot. When the original owner, Gus Agioritis, was starting to sell franchises, he suggested I might like to get involved. I could see it was a good concept. I was 27 and about to be transferred by the RCMP, but didn't like the move. The timing with Boston Pizza seemed right, so I said, "Let's give it a shot."
My father was not happy. He told me very loudly that I had no background in the restaurant business. And it was true. But I went in with my eyes wide open. Before signing on, I worked in the Edmonton restaurant for 10 months to learn the business. I did every job there was to do in that store: scrubbing floors, cleaning bathrooms, making pizza—the whole works. And I'm glad I did. You should learn any business from the ground floor up. That satisfied the rational part of me that I could handle it. I opened my first store at 511 Main St. in Penticton, B.C., in 1968.
Of course, that doesn't mean owning and running that first restaurant wasn't difficult. In fact, it was the toughest one because of the long learning curve. As with any financial venture, it's a lot of hard work analyzing what's working and what isn't—but you have to put in the time. People sometimes expect an instant gold mine with their investments, but there's no sense in thinking you're going to strike it rich immediately. In my case, I certainly didn't think I'd be able to get 10 or 15 franchise stores up and running at a single time. But once I had that first store working properly, I was ready to open up others. I had the model right.
Another important thing to keep in mind is that everyone has different strengths and weaknesses when it comes to business and finances. My advice: sit down and figure out what you're good at and not so good at. Then surround yourself with people who have the skills you lack. That's why I've been with my partner, George Melville, since 1973. Originally, he was my accountant. In the fifth year of business I went to him and said, "Look, we're opening more stores and I need someone to take over the financial side of things."
George brought the know-how I didn't yet have. He dealt with the banks, made sure suppliers were being paid, analyzed whether we were charging enough for our product and made sure food and labour costs were in line. That allowed me to focus on the operations side. I was going out and working the stores every day and making sure we had staff and everything was running smoothly. They were two very different jobs and because both were done well, we were able to expand quickly.
That doesn't mean we made no mistakes. That's a given. There's no one batting 1,000 that I know of. When we entered the Toronto market, we first tried to run a number of stores from Vancouver. We ended up having to close them down and left that market for about eight years. Granted, there was a recession on at the time, but the biggest problem was that we weren't prepared. We weren't putting the time and effort into it. Toronto was a very different market and we didn't fully understand it. Vancouver people go out later and you don't get factory workers. In Toronto, we found people were coming in to eat at 5 p.m., the pace was faster and we had to be quicker. When we came back to Toronto, we were ready. We knew what we had to do differently. We used conveyor ovens that allowed us to make pizzas faster and we staffed the restaurants for that early rush. Our Toronto-area restaurants are now thriving.
That's the biggest thing to remember when you're putting your money in something: be prepared. If you want me to invest in your company, you'd better know the numbers and be able to tell me everything about your business. The same can be said for personal finance. Learn what you need to know to get the most out of your portfolio and take charge of your money.
Jim Treliving is the chairman and owner of Boston Pizza, and the television star of Dragons' Den and The Big Decision. His latest book, Decisions, is in stores.