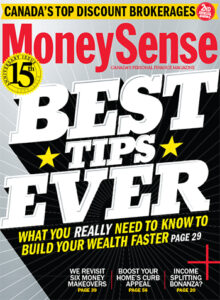 The June 2014 issue of MoneySense is the official 15th anniversary issue. If we were a married couple, it would be our crystal anniversary. On May 15th we celebrate this milestone with an already sold-out event at the Board of Trade in Toronto.
We hope you'll enjoy our Best Tips Ever package, culled from 15 years worth of issues, plus new input from both expert sources and readers. Senior editor Julie Cazzin also revisits six Family Profile subjects who originally appeared in the early years of the magazine. Julie has been with MoneySense since the first issue in 1999, both as an editor and a key writer. To this day, she brings the human touch I believe is central to the MoneySense brand DNA.
We recently spent an entire day off-site to brainstorm on the MoneySense brand, and confirmed our mission is to empower readers to achieve financial freedom (or my preferred term, financial independence, presented in my column).
This issue also features the second annual installment of MoneySense's ranking of Canada's discount brokerages. It's researched and written by our resident couch potato and indexing guru, Dan Bortolotti, with input from Surviscor. Discount brokerages also help empower investors, giving them the means to trade securities, mutual funds and ETFs directly, while keeping costs to a minimum. Dan is also lead author of the MoneySense Guide to the Perfect Portfolio, a hands-on introduction to discount brokerages and the couch potato philosophy of passive investing.
As I've argued in my own book and articles, the fact discount brokers empower investors doesn't mean investors must do without advice or financial planning help. Our online fee-only planning directory nicely complements discount brokerages. As Preet Banerjee wrote in our November 2013 issue, there's an important distinction between fee-for-service planners charging by time or by project, and asset-based advisers who levy annual fees based on client assets under management. To my mind, a self-directed investor who uses a discount brokerage and is interested enough in investing to subscribe to MoneySense is a good candidate for true fee-for-service planners or money coaches.
Finally, there's been a lot of flux at Rogers Media and MoneySense, some of which can be seen in changes to the masthead to the right. In just over a year publisher Sandra Parente put us on the map, culminating in the anniversary event. Sadly, she's moving on and we wish her all the best at her new position as publisher of Maclean's and Sportsnet. Fortunately, Rogers veteran Ian Portsmouth is our new publisher, doing double duty with sister magazine Canadian Business (CB henceforth in this note).
Another change affects not just MoneySense but all Rogers consumer magazines. Derek DeCloet is our new director of content strategy, a key position that involves bridging traditional print publishing with the evolving dynamics of the digital landscape.
Derek spent a decade at the Globe & Mail's Report on Business. Before that he was at the National Post and he was at CB early in his career, so this marks his return to Rogers. We look forward to the new era under his direction. As a result, I'm optimistic MoneySense's second 15 years will be even more successful than the first 15!