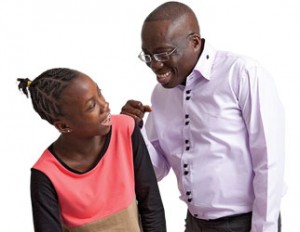 If you're in your 40s, you probably feel like you're treading water. Between paying the mortgage, raising a family, contributing to RRSPs and saving for your kids' post-secondary education, you may find yourself paddling as hard as you can just to keep your head above water. Andy Charles, a 40-year-old senior manager for a large retail company in Toronto, knows that feeling well. And while he feels that he's behind in his retirement savings, it isn't for lack of trying.
Charles immigrated to Canada from Grenada in 1994 and spent his 20s completing three university degrees. With a $220,000 mortgage on his two-bedroom condo and $50,000 worth of outstanding student loans, it's no wonder he feels overwhelmed. He earns a hefty $100,000 a year but still finds himself struggling financially. "I always feel as though I'm juggling many, many financial balls, and so I never give any one of them the appropriate level of attention," says Charles, a single dad to a 12-year-old daughter, Shaday.
While Charles says he's on track to pay off his mortgage in 26 years, he isn't sure that his contributions of $4,800 a year to his RRSP—which now totals $36,000 and is invested mainly in index funds—will be enough to guarantee him a comfortable retirement. "I want to be realistic because I started my career late," says Charles, who expects to retire at 65. Right now, he pays $600 a month towards his student loans, but he looks forward to 2014, when he will have two of them completely paid off, freeing up about $225 a month. (The rest are due to be paid off in 10 years.) As well, in six years Shaday will be in university, bringing his $175 monthly RESP contributions to an end. "Should I put that extra money in RRSPs? Or towards my student loans?"
Alexis and Dimitri Iatrou of Halifax understand Charles's anxiety. Alexis, a 46-year-old stay-at-home mom who recently returned to full-time work for an accounting firm, spent the last 18 years at home raising her three kids, ages 18, 16 and 11. Dimitri, 45, who works for a beverage company, was the sole income earner for all those years. The couple decided to make paying down the mortgage on their $400,000 home their top priority—a goal they will meet this month when they make their final payment. "It's been a struggle, but we're really proud of ourselves," says Alexis.
But over the years, even though expenses were high, the Iatrous always made sure there was enough in the household budget to contribute $3,000 to $5,000 a year to RRSPs. "All our retirement savings went into spousal RRSPs and we now have close to $90,000 in that account," says Alexis, who invests the money in exchange-traded funds and a few common stocks.
The Iatrous' goal in the next 10 years is to increase their RRSP contributions to $13,000 a year, split equally between the two of them. "The way I see it, it's full steam ahead for the next 10 years," says Alexis. "We hope to retire at 60 and be able to draw an nice income from our retirement savings. I think we can do it."
What the experts say
Your 40s are a critical point in your life. Statistically speaking, your peak spending year is around age 46. After that, the hugely expensive years of raising young children are usually behind you, and higher cash surpluses will allow you to build some momentum in paying down the mortgage and boosting retirement savings. The challenge, says Lamontagne, is that most people tend to spend those surpluses. "So you need a plan to ensure those funds are used to meet your goals."
The Iatrous have worked hard to pay off a big mortgage. "By continuing their diligent savings habit and directing what used to be the mortgage payment into RRSPs instead, their retirement savings will grow rapidly," says Schlenker. "In a few years, ask a fee-only adviser to do a calculation to see if Dimitri should start contributing to his own RRSP instead of the spousal account."
And for those who got a late start, like Charles, the news is also good. "He's contributing $400 a month to his RRSP today," says Schlenker. "He will be fine, whether he chooses to tackle the student loans or the mortgage first." Schlenker notes that if Charles continues his current loan payment schedule, he can gradually bump up his RRSP contributions to $1,200 a month. He should invest his money in low-fee ETFs or index mutual funds, with 60% in equities and 40% in fixed income. If he does that, Schlenker says, by age 65, Charles' RRSP will grow to more than $500,000. With government pensions thrown in, that should assure a comfortable retirement.