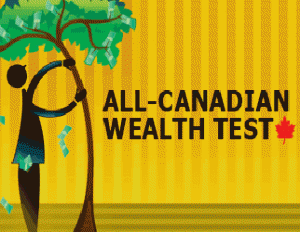 Feeling poorer these days? Join the club. Nearly 400,000 Canadians have lost their jobs since last October. Even those of us who remain employed have seen a quarter or more of our RRSPs vanish into the jaws of the bear market. Bankruptcies are soaring and debt levels have jumped to heights that would have seemed unthinkable only a generation ago.
In a downturn of this size, it's natural to assume that you're falling behind. Many of us lie awake at night worrying about our finances and feeling the stab of envy. Is our net worth crumbling to shameful levels? Are our friends making more than we are? How did our neighbors with the new BMW manage to sidestep the falling stock market that hammered us — or did they?
If you've been torturing yourself with such questions, the All-Canadian Wealth Test can shed some much needed light on your personal finances. MoneySense launched the Wealth Test in 2000 and this year's version is our  most comprehensive yet. Its goal is to let you see how you measure up versus other Canadians. Our research can tell you if you're earning more or less than your peers, if you're wealthier or poorer than others, and if your track record in the stock market is better or worse than most investors.
The good news — and, yes, there is good news — is that the average household is better off today than it was nine years ago when Canada was zooming along at the peak of the dotcom boom. Over the past year, the typical person has lost about a tenth of his or her wealth. But the average Canadian household is still 7% richer in real terms in grim 2009 than it was in bubbly 2000. That's an amazing — and encouraging — fact. Despite the worst economic crisis since the Great Depression, prosperity still appears to be inching ahead.
Problem is, our prosperity comes with warning stickers. One catch is that our increase in average wealth has been accompanied by an increase in inequality. While the rich are definitely growing richer, it's not clear that middle- or working-class Canadians are any wealthier than they were a decade ago.
Just as worrisome is how we're getting richer. In recent years, Canadians have experienced little joy from the stock market. More and more, we have come to depend upon the real estate market to drive our wealth upward. Thanks to record low interest rates and innovations such as 35-year-mortgages, eager home buyers have propelled housing prices to double their levels of a decade ago. Real estate now makes up an unprecedented share of our personal balance sheets. If the housing market stays strong, we remain prosperous. But if home prices crack, look out below.
Two types of wealth