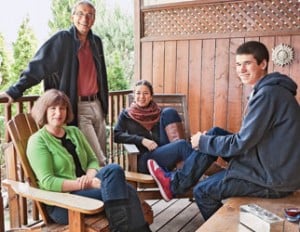 When it comes to the cost of raising my two (now rather large) bundles of joy, I have tended to stick with micro-level calculations: Can we afford to send the kids to camp? How do we pay for those braces? Does she have to have a tutu to go to dance class? (The answer was, of course, a foot-stomping yes.) I tried not to think about the big picture. Too overwhelming.
Nonetheless, for years I've heard it said that it costs roughly $160,000 to raise a child from infancy to age 18. Turns out that much-cited figure was originally compiled by Manitoba Agriculture — the actual number for 2004 (the latest year for which the calculation was completed) was $166,972 for a boy and $166,549 for a girl, predicated on the idea that the food cost for boys is higher. But how realistic is that? Does it take into account daycare costs? Orthodontics? RESPs? Extra-curricular activities? Or a bigger house to accommodate the rug rats?
Let's face it, no set figure can ever really sum up the myriad decisions parents make regarding the care and feeding of their offspring. And really, no one is suggesting that you sit down with a calculator and do a cost/benefit analysis on whether to pull the goalie. But just for interest's sake (and so you can use it as ammunition with your kids), I teamed up with top demographer Roger Sauvé at People Patterns Consulting in an attempt to break down the costs of everything from nappies to Nutella.
After two months spent knee-deep in reams of Statistics Canada data, we're proud to announce that we've come up with what we believe to be the most comprehensive and accurate estimate of the average cost of raising a Canadian child to age 18 ever published. (To be accurate, it's the cost of raising a child to the day before his or her 19th birthday, as is the Manitoba Agriculture figure.) Our goal is nothing less than to become Canada's new official source for the cost of raising kids. After all, someone has to pick up the baton now that Manitoba's ministry of agriculture has stopped updating its figures.
Before we get started though, let us just point out that the Manitoba number was specific to Winnipeg. It took in food, clothing, health care, personal care, recreation and school supplies, transportation, childcare and finally shelter, furnishings and household operations. We've stuck with the same basic categories, but our research is more thorough, and our numbers reflect the average cost per child for middle-class couples with two children across the country, not just for Winnipeg.
Still, it's important to note that all these costs can be considered merely "rough estimates," says Sauvé. We looked at the average cost of raising a child in Canada. Very few Canadians will find they are spending exactly the average, just as very few Canadians make exactly the average income. A wealthy two-parent couple will no doubt spend more than our figure, and a money-conscious single parent will likely spend less. Studies also indicate that the more children you have, the less you spend on each one of them (see Cheaper by the dozen) and the amount spent will vary from province to province and by the size of the city you live in. There's a bit of dumb luck involved too. After all, some kids need braces and tutors, and others don't. Those caveats aside, read on for the results of MoneySense's exclusive research into the real cost of raising kids from infancy to 18.

Food: The nosh pit
When you first feel the helpless heft of a newborn in your arms, you can't imagine a time when that little tyke will out-eat you. But believe me when I tell you (in the immortal words of Yoda), "much to learn you still have."