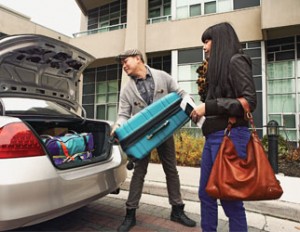 Three years ago, cyclist Ed Doucet was cruising down a mountain in Majorca, Spain at 50 km/h when his tire lodged in a rut in the road, catapulting him over the handlebars. "I fractured my pelvis in three spots and cracked four ribs," he says.
Doucet, now 36, spent five days in a Majorca hospital before being transported by ambulance to Majorca's airport and flown to Gatwick Airport in London, England. From there he was transported by ambulance to Heathrow airport and then flown home first class to Brantford, Ont. His insurer, RBC, hired a Canadian nurse to accompany him. The total bill: $22,727.50.
Fortunately, Doucet had spent $63 on travel insurance to cover him for the 11 days he was away. "Best purchase I ever made," he says. "Quite apart from what it would have cost me if I had to pay for it myself, I don't know how I would have handled the logistics of getting myself home."
Indeed, when it comes to preparing for holidays, travel health insurance should be at the top of your list. Provincial health insurance plans offer sparse coverage for travellers outside of Canada and that can mean big trouble if you need hospital care. "It's really not wise to travel outside of Canada without insurance," says Milan Korcok, a long-time medical writer and Florida-based editor of Travel Insurance News (travelinsurancefile.com). Even if you're just popping across the border to do some shopping, he points out, you need to be protected. "Health care is more expensive in the U.S. than pretty much anywhere in the world."
Fortunately, protecting yourself from medical mishaps on the road doesn't have to cost a fortune. Herewith our tips on how to keep costs down:
Avoid doubling up on coverage
"We don't bother with travel medical insurance because we're both covered through work," says 35-year-old Alysia Isidros of Mississauga, who co-authors the blog Beachjunkies.blogspot.com with her husband Mike Solon, 33. Similarly, premium credit cards frequently include travel medical insurance and trip cancellation insurance. The caveat: study the policy closely to make sure you know what you're getting, advises Korcok. Insurers often limit how much they'll pay out for claims and restrict coverage to shorter trips.
Don't buy from your travel provider
Most travel agents flog travel insurance, but you can often get it cheaper elsewhere. Consider that an all-inclusive travel insurance package for a 52-year-old on a $1,500 one-week trip to Aruba rang in at $145.80 per passenger through a package tour operator, including up to $5 million in medical coverage. By contrast, online insurance provider travelguard.ca offered an all-inclusive package for $92.88, including $10 million in emergency medical coverage.

Let your fingers do the shopping
Want to get a quick overview of travel insurance prices? Quote comparison service Kanetix.ca is a good place to start looking—you'll get competing quotes from six providers including Travel Guard Chartis, TIC and Travel Underwriters.
Make it an annual event
If you travel more than twice a year, it's cheaper to buy an annual plan, advises Tim Bzowey of RBC Insurance. Consider that a 40-year-old would pay $30 for emergency medical coverage during a one-week trip to Cancun. By contrast, he could get an annual plan that would cover him for unlimited trips of less than nine days duration for $59. An added benefit, according to Bzowey: "if you just want to go across the border for a weekend and you have your annual plan in place, it's one less thing to worry about."
Join a group
Membership organizations like the Canadian Snowbird Association, the Kiwanis Club and CAA have plans tailored specifically to their members and they're usually relatively cheap, points out Korcok.
Make it a family affair
Family plans can be considerably less expensive than covering each individual separately. "In essence the kids are free," says Korcok. And if they hurt themselves, "it's going to be just as expensive when you get to the emergency room as if it were the doddery old granddad."
Be painfully honest
If you're a Boomer or older, you will likely have to fill out a medical questionnaire before you're offered travel insurance. It's critical to be honest and accurate, or you risk having your claim denied in the event of a medical emergency. If you're not sure whether specific medical information is relevant, advises Bzowey: "Don't guess. Pick up the phone and give us a call. There's absolutely no charge to ask us a question." Although it might cost a little more for your policy if you're considered higher risk by your insurer, warns Korcok, that's small potatoes compared to the hefty hospital bill you could face if your claim is denied.