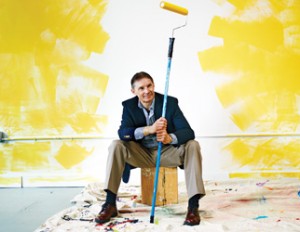 Looking back on his extraordinary investing track record Berkshire Hathaway vice chairman, Charles Munger, once said: "The first $100,000 is a bitch." Scrimping together this size of a portfolio can be a daunting task. But once there, it's time to rejoice. That's because you've entered what financial planners like to call the "mass-affluent" class of investor. Options open up and saving for a comfortable retirement starts to look more attainable. Of course, doubling your money will still require hard work and a bit of grit. Whether you've earned your money through long work days, sold a property for a sizeable profit, or come into an inheritance, we've got a few tips to help you grow your portfolio.
Invest in RESPs
Ask Jeremy Mercer, 43, what he'll do with his tax refund this year and he doesn't hesitate. "Before I'm tempted to spend it, I'll contribute $10,000 to my kids' Registered Education Savings Plans," says Jeremy, an engineer who lives in Edmonton with wife Jennifer, 41, and two young kids. A savvy do-it-yourself investor, Jeremy buys dividend-paying stocks for the kids' education accounts. The RESPs hold Canadian bank stocks, Pizza Pizza, Parkland Fuel Corp. and other blue chips.
Jeremy chose RESPs because of their potential to double his investment rapidly. A contribution of $10,000 in his children's RESPs today, assuming a 6% annual return and the payment of the Canada Education Savings Grant (CESG), will double to $20,000 in just 10 years—when his kids will be at post-secondary schools. Every child born in Canada accrues $2,500 worth of grant eligible room each year till age 17. The CESG gives each child 20% on each dollar of the first $2,500 saved in an RESP each year. Depending on net family income, you may be able to receive an extra 10% to 20% on every dollar of the first $500 you save. The lifetime maximum CESG grant is $7,200 per child.
But it gets better. Besides free grant money, Jeremy loves that there are no taxes payable on money earned in RESPs until it's withdrawn. When RESP grants and earnings are withdrawn by the child for educational reasons, they are taxed at the student's tax rate, which is usually lower. Most students have an effective tax rate of zero, meaning that your original contributions, the grant money, interest, dividends and capital gains can be withdrawn almost tax-free in any year the child attends post secondary education.
Buy a franchise
As an undergrad in the 1970s, Greig Clark started a painting company to pay for school. That first summer he earned $3,000. By 1978, he'd spun his business into 88 College Pro Painters franchises that earned a combined $40 million. "I taught students how to do as well as me, or better—that was the key to success," says Clark, who spends his time championing 40 Oaks, a residence for the homeless. He sold College Pro in 1989, but aspiring entrepreneurs looking to replicate his success can benefit from his proven model and buy a franchise.
Franchisees need to do their homework. Research by Wayne State University economist Timothy Bates shows only 62% of franchises still operate after four years. The main reason: lack of profitability. If considering a franchise, do your research and factor in all costs, including start-up and royalty fees.