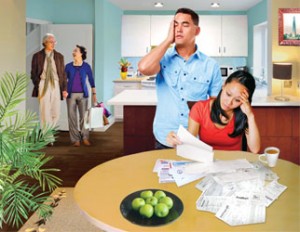 First the good news: A new survey suggests fewer Canadians are living paycheque-to-paycheque with more saving for an emergency and retirement. Now the bad: Nearly half of us (47%) would be in dire straits if our pay was delayed by just one week, according to the Canadian Payroll Association.
Household balance sheets have far reaching implications. Canadian sky-high debt loads could push the economy back into recession, according to a new sobering report from Moody's Analytics. Too much of Canada's growth is rooted in consumer spending and with debt-to-income ratios now topping 150%, the rug could be snatched from under the economy if an interest rate hike were to catch Canadians by surprise. Even with this risk however, Moody's sees Canada's chances of a double-dip recession at roughly 20%.
And if rising debt loads and  high interest rate charges weren't reason enough to make you think twice about swiping your credit card, new added fees could seal the deal if retailers win a fight to pass Visa and MasterCard transaction charges on to the consumer. Read more about the Canadian Federation of Independent Business' legal battle with Ottawa.