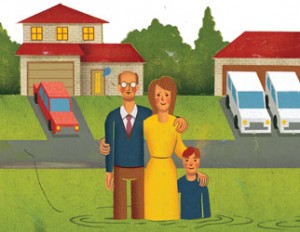 Consumer debt levels continued their upward climb in the third quarter, hitting an all-time high of 164.6% of disposable income, Statistics Canada said Thursday. Emboldened by record-low borrowing costs, Canadians have racked up unprecedented amounts of mortgage and other kinds of debt despite repeated warnings from policy-makers that bloated debt levels could make them vulnerable when interest rates start creeping back toward more normal levels.
What's in better condition: your physical fitness or your finances? A recent poll found that 60% of Canadians believe they are in great physical shape, but only 28% would say that about their fiscal health. If you're in this boat, you've come to the right place. Start the New Year off right with these tips from Investors Group: get organized, make debt repayment a priority, consider saving your year-end bonus in an RRSP, create an emergency  fund and give to charity. Get started today with MoneySense's resident tax guru Evelyn Jacks' checklist of tax savings before 2013.
Speaking of year-end checklists, now's the perfect time to take pulse of your investments. Specifically, Edward Jones investment strategist Craig Fehr suggests rebalancing portfolios for appropriate diversification, look into new investment opportunities and consider selling bad investments  before Dec. 31 to offset capital gains.