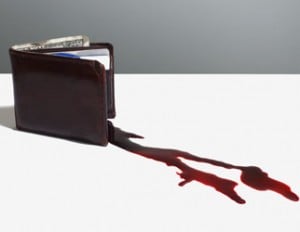 Didn't save as much as you would have liked this year? Who's surprised? Life is full of temptations to blow your cash. Sometimes we do the same bad-for-us spending over and over again until it turns into a habit. But if a bad habit is getting in the way of what you really, really want to achieve, it's time to break up with it!
Yes, I'm talking about your venti chai latte habit. Or maybe it's your insistence on going out for lunch four out of five days a week. Or the couple of beers and wings you grab with the boys after hockey every Wednesday night. Or your wicked sweet tooth.
Let's say you've decided to eliminate coffee on the road by substituting homemade coffee, which saves you $25 a week. Multiply that $25 by 52 and you'll see that you'd save $1,300 in just one year.
If you were to apply a reasonable rate of return—let's say it's 5%—to those savings, and multiply that total by the number of years until you retire, you might be surprised by what giving up that bad habit can mean to your financial future.
If you're 35 years old, eliminating one bad habit that saves you $1,300 a year will mean $91,989.03 in your pocket. Yup, that's almost $100,000 just from giving up a bad habit. By not spending that $40,300 on your coffee habit, you'll earn more than $51,000 in interest in your RRSP. Wow!
If you smoke, drink booze or pop, buy lottery tickets, change your car every three years, pay more than $20 a month for bank charges or carry a balance on your credit cards you can't say you don't have money to save. Since you have the money to waste on bad habits, you're just making excuses for not saving. So, what are you going to do differently in 2012?