Ranking 415 Canadian cities from Salt Spring Island, B.C. to Conception Bay South, Nfld. isn't easy. Some might even say it's impossible. While it's true our ranking is unable to capture the beauty of the sunsets or the passion of the local hockey team's fans, we think a lot of the things that make a city a great place to live can be measured.
We rank how each city measures up in 10 categories: Wealth and economy, affordability, population growth, taxes, commute, crime, weather, access to health care, amenities and culture. We give each category a weight out of a total of 100 possible points, making categories we think are most important to average people worth the most points. Different things are important to different people, of course, and we invite you to adjust our category weightings to your taste and find the city that's perfect for you using our build-your-own-ranking tool.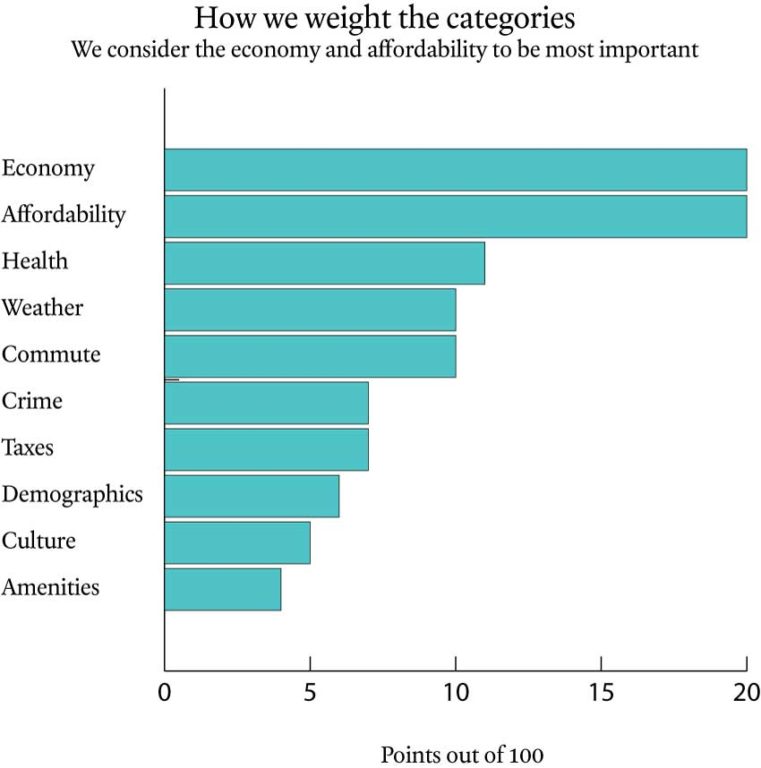 We made a number of tweaks and adjustments to this year's ranking. That means this year's results are not directly comparable to previous years.
Two of the biggest changes we made were to the health category and the demographics category. The ranking now includes data on the median wait times for various medical procedures. We awarded points to cities where residents get faster access to surgeries and treatments.
The demographics category in the main ranking used to measure the five-year annualized population growth of cities against an ideal rate pegged at slightly above the national average, with cities penalized for growing faster or slower. While it's true that fast-growing cities can face challenges, we believe those difficulties can be absorbed and addressed if local leaders are effective. We also didn't want to penalize suburbs of major cities that are growing quickly because they're building a lot of new housing, which is vitally important to address the affordability crisis in Vancouver and Toronto. As far as we're concerned, if lots of people want to move to a city, that's a good sign — and if the municipality is doing a bad job of handling that growth, it's likely to be reflected in other areas of the ranking.
A note on how we define a "city:" We examined the largest of what Statistics Canada calls "census subdivisions," defined geographical boundaries that usually encompass a municipality. Sometimes Statistics Canada uses names that are different from those in common usage — for example, if you're looking for Fort McMurray, Alta., the name of its census subdivision is Wood Buffalo.