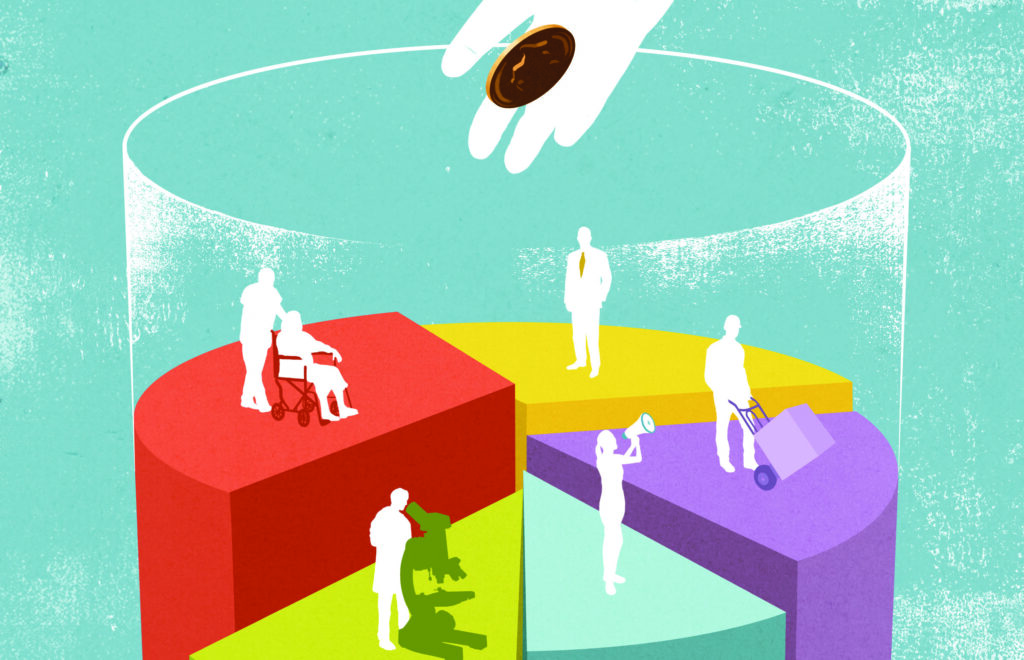 View the most up-to-date Charity 100 rankings here.
Three times a year, Kerry Gordan sits in front of her computer with a very specific intention: to donate to charity. For this stay-at-home mom and avid volunteer, this selfless act isn't just about donating to a cause, it's about taking a break from her busy schedule to reflect upon the time she had with her mom and dad.
Ten years ago, Kerry got a phone call: her dad had landed in a Calgary emergency room due to esophageal hemorrhaging. A week later, Kerry's father died from ad- diction-related complications. "After years of abuse his body just gave up," she says. Yet, despite an estranged relationship, Kerry never stopped loving her father.
"It's one of the reasons I continue to give to the Calgary Health Trust and the Salvation Army," explains Kerry from her Kelowna, B.C. home. "I've actually seen the work these organizations do and know the difference they make—both to those they help and to the families that are affected by addiction." Kerry also donates approximately $1,000 each year to the Heart & Stroke Foundation. "My mom died from a sudden and massive heart attack just days after her birthday," she explains. "My hope is that my donation will help find a cure, and prevent others from having to go through what we went through."
Kerry's decision to donate to charities with a personal connection is not uncommon. According to 2013 survey, 70% of donors actually choose a charity because of a personal link to the cause. "People respond to the issues that touch their lives," explains Dr. Beth Breeze, director of Philanthropy Centre at the U.K.-based University of Kent. "They are motivated to help when a cause speaks to their personal passions and experiences."
---
Play: Mark Brown explains the Charity 100 on 680 News with Mike Eppel
---
At MoneySense we know that everyone gives to charity for their own reasons, and that picking a cause is a very personal decision. But one thing is common among all donors: They don't want to see their money wasted. "I have faith that these charities are using a good portion of my donation for the cause," says Kerry, "but I'm guessing. I have no real way of knowing."
That's why we created the Charity 100. Now, in its fifth year, our charity rating system gives a letter grade to the 100 biggest charities in Canada, as measured by the amount of money raised directly from the public. Our examination is designed to determine if charities are meeting generally accepted standards for financial management and governance in their sector, based on information from the charities' tax filings and a questionnaire sent out by MoneySense. Our aim is not to judge whether or not a charity is important—only you can do that. Instead, we examine whether charities are adhering to best practices in their specific sector. That means you still need to decide what type of charity you want to support, then you can use the Charity 100 to see which organization gets top marks for efficiency, transparency and accountability. Because let's face it, most donors would prefer their dollars go to lean organizations that concentrate on their cause, rather than bloated institutions that soak up donations to support their own operation.
Once we gather all the data, we analyze it and assign each charity a letter grade in each of four categories—efficiency, fund- raising, governance, and reserve fund size. Finally, we tally up all the scores to arrive at an overall grade. In this way, the MoneySense Charity 100 helps donors get a better idea of how well their money is being used.