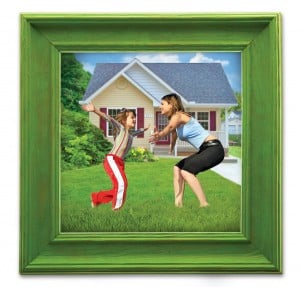 Marilyn Reynolds, Kingston, Ont.
&
Now…
When we first met Marilyn Reynolds in September of 2003, she was single and living in Kingston, Ont. At that time, she planned to plunge into motherhood. But unlike all her friends who were having children naturally, she would be doing it through artificial insemination. At 37, she was sure she'd be a good mom but was less certain about the associated financial implications.
Money had never been important to Marilyn, who preferred working a four-day workweek and earning the small sum of $26,500 a year with an environmental policy group. She was a convert to the simple living movement and didn't want to be a slave to the earn-and-spend lifestyle. But she was also $12,031 in the red due to student and consumer debt, and hadn't even started any insemination procedures. She was aiming to pay for her "baby project," as she called it, by pinching pennies. Finally, there was the question of buying a house. "Owning a home is a part of my retirement plan and as soon as I have a 5% down payment—about $5,000—I'd like to look into buying," said Marilyn at the time. She wanted to know if she could accomplish all that on her modest salary.
11 years later. Marilyn Reynolds now knows life can be unpredictable. A few months after talking to MoneySense, she got a promotion at work, bringing her income to $49,000 annually. It was a dream job and one she didn't mind working at five days a week. At the same time, she found a small cottage-like house that she says was love at first sight. "I put an offer on it the same day. It was on a laneway and adorable. I just knew it was for me." With her higher salary, she easily got a pre-approved mortgage and was able to pay off her student and consumer debt over the next two years. Marilyn also took our experts' advice to pay off her home as quickly as possible and to this day, makes biweekly mortgage payments. "I've renewed the mortgage a couple of times and used a line of credit throughout the years to do renos," she says. "But all of that is rolled into the mortgage. It's quite manageable."
Today, Marilyn also contributes to an RRSP and started working with an adviser in 2007. "My investments didn't do so well in the 2008 market collapse but I'm in it for the long haul so I'm really okay with price fluctuations." Most important, she got lucky in love. She's had a live-in partner for three years now and the two parent her partner's stepdaughter together. "I never did find the time or money to have a baby," says Marilyn. "But I've become a mom anyway. I enjoy co-parenting my 12-year-old stepdaughter and that nurturing side of me is satisfied. I'm 48 now and realize my childbearing years are over. That's liberating."
The one thing she says the financial experts' advice did for her was to help her focus on her priorities at a time when she was unsure how to proceed. "Getting a job I loved and a home has made all the difference for me," she says. And even though she admits she'd retire tomorrow if she could, she's on track to do this at 63 with a good defined benefit pension and a paid-off house. "I really couldn't ask for more."