Kimberly Roy loved her job. As a freelance graphic artist she was able to work from home, with clients she respected, on projects she loved. Eventually, however, Kimberly and her high-school sweetheart husband, Todd, decided to start a family. After much deliberation, the couple chose to adopt a boy from South Korea. That's when things got…different.
"I was only able to take two and a half weeks off work after the adoption of my son," recalls Kimberly, noting that the division of responsibility for dinner and daycare pickups between the two new parents quickly fell to "whoever had the less crazy day."
Life only became busier after the Roys adopted a second child, a little girl from South Korea, a year or so later. The couple divided up responsibility as best as they could, "but neither of us really felt we were giving our children 100%. So we started to outsource some of our life." They hired house-cleaners and paid for child care and budgeted for take-out and restaurant meals to eliminate some of the dinner-time-crunch stress. Almost a decade into their working/child-rearing struggle, the Roys came to the realization that, "It wasn't working for us." That's when Kimberly and Todd decided she would quit her job and become a full-time mom.
Kimberly's decision isn't unusual, but it's no longer typical. According to Statistics Canada, the number of dual-income families has doubled since 1976, when only 36% of families had two working parents. In 2014, the number had grown to 69%. A generation ago, the idea that a family included a stay-at-home parent was the norm. Today, less than one-fifth of families fall into that camp.
Perhaps this change in demographics isn't that surprising. After all, 40 years ago, families could buy a home, a car and the latest household gadget, and still sock away some retirement savings, all on a single income. But things changed. Houses got bigger (and much, much more expensive). Gas prices started to climb and more and more gadgets, luxuries and investment options started to compete for a family's discretionary dollar. The result? A two-income world, where the majority of parents juggle work schedules and family responsibilities. But the dream of more family time hasn't diminished. The question is how do the Roys, and other one-income families, make it work?
We talked to one-income families and financial experts to uncover which obstacles single-income households face. Through practical advice and insight from our families, we can offer you an easy-to-follow, completely achievable method for making your single-income household work.
Step 1: Talk about it
It sounds so simple—even trite—but without communication single-income households are doomed, explains CFP and certified money coach, Karen Collacutt. "Most of society is in an ignore-and-panic cycle when it comes to money," she says. "This cycle gets even harder when there is less money, like in a one-income household."
Collacutt suggests scheduling weekly meetings, say every Sunday morning, to discuss upcoming bills and to prioritize goals. These meetings don't need to be long, but should be free from other distractions. And don't start with a list of expenses that need to be eliminated. "That just sets up a power struggle and a sense of lack," says Collacutt. Instead, frame your discussions around what's a priority. "When everyone is focused on a few mutual goals, then all other distractions—and the expenses associated with those distractions—start to disappear."
It's how Cynthia and Simon Baker made their single-income family work (we've changed their names to protect their privacy). As a project manager in a growing high-tech field, Cynthia loved her job, just as Simon loved the demands of his high-pressure shift-work as a paramedic. But with the birth of their second child, the Bakers felt the pinch. "My 9 to 5 schedule stretched into nine or 10-hour work days," says Cynthia, "and good luck finding a daycare to accommodate shift work." So, they started to talk about what it would look like if Cynthia left her job. It seemed that one of the first casualties would be their plans to move into a bigger home. Gone, too, was the new SUV, as well as the $8,000 family vacation to Aruba. Their discussion helped create a division of labour: Cynthia became responsible for raising the kids, keeping the home and balancing the budget; Simon worked and spent days off with the family. Every month, they'd review their finances and together they'd decide what to spend the extra money on, if there was any. This past spring, those discussions prompted a big decision—the Roys sold their small three-bedroom townhome and moved into a much larger home in the same neighbourhood. "A big reason for the move was the new house had a swimming pool," says Cynthia. The couple's decision to aggressively pay down their mortgage meant they could move to a bigger home without significantly adding to their monthly expenses.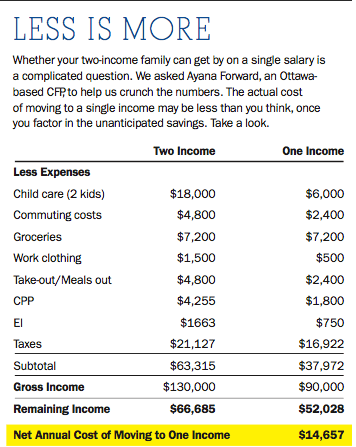 Talking about finances can be challenging for couples. "Often, we only deal with money when it's a problem, but money itself is neutral." Explains Collacutt. "We layer on all the junk—the blame, shame, anger and frustration. When we approach money from this place that's when problems arise." Ongoing dialogue is integral to making a single-income household work, says Trevor Van Nest, a Niagara, Ont.-based CFP and money coach."Two brains are always better than one when it comes to personal finances." Even when only one person earns the money, both people need to be responsible about how that money is spent.
Step 2: Build a budget
Once your family has talked about it and decided to take the leap and become a single-income household, it's time to make a budget. Skip this step and your dreams of more family time could be usurped by creditor meetings and collection notices. Just ask Amanda and Greg Burke.
The Toronto couple accidentally started their family almost 15 years ago, when they were both temporarily employed at a Metro grocery store. Now, they are the happy parents of three beautiful children: 13-year-old Amy, 7-year-old Julie and 5-year-old Kiran. But life as a single-income family hasn't always been easy. Just over five years ago, the couple got into serious problems after they ran up a $50,000 line of credit. "With easy access to cash we forgot about budgeting," explains Amanda. Thankfully, the couple sought help and have since paid off almost all their debt. "This is a dual-income world," says Amanda, "and learning to stretch a dollar is really important."
Van Nest agrees. "I see people in every snack bracket struggle between what is a need and a want. I call it the Costco effect: You go in for milk and come out with a TV." Regardless of the income earned, the households that are successful at saving and living well are the ones that spend less than they earn—and that starts with a budget.
While there are many methods for creating a budget, Van Nest suggests tracking expenses for a month or two to determine exactly where the money goes. You can use an online service like Mint (mint.com), but you can just as easily use a spreadsheet to track expenses. Whatever method you choose, the key is to collect and record all the known costs, before prioritizing which ones are necessary—and which ones can be cut.
Within the budget, consider introducing a spending limit. Let's say it's a $200 cap. That means any purchase above this amount must be discussed with your spouse. "It's about creating an accountability partner," says Van Nest. Collacutt adds that a pre-determined spending limit helps each partner in the team "stay accountable to the family goals."
You might also consider talking to an accountant or tax planner. "You may be surprised at how many expenses you can eliminate from your current two-income budget," explains Ayana Forward, CFP with Ryan Lamontagne in Ottawa. With a stay-at-home parent, for instance, you may no longer need to pay for childcare which could eliminate $10,000 or more from your annual budget, says Forward. There may also be a reduction in costs associated with commuting, work clothes, fast food and take-out meals, as well as a reduction in CPP and EI deductions. For most families, Forward estimates savings between a few hundred and a few thousand dollars every month, just by switching to a one-income household. Add to this a tax planner's insight into how best to take advantage of tax credits and income-splitting strategies and the savings add up, she says.
Step 3: Get creative
But what if you're budget doesn't balance? What if you just can't afford to do it all on one salary but you still have the single-income household dream? This is when inventive decisions need to be made—decisions Cecile and Thomas Hart faced a little over five years ago.
The Hart's tale is one of teenage-romance, spanning two continents and 15 years of separation, before a chance meeting in Spain. That's when they realized that life was better together than apart. At first the couple settled in Cecile's home country of Holland, where they welcomed the birth of twin girls. Two years later they brought a third baby girl into the family. "We started outgrowing our little house," says Cecile. Unfortunately, even with both parents working, they couldn't afford to buy a bigger house in Holland. "It was just too expensive," says Cecile. Since Thomas is originally from the Toronto area, they decided to move to Canada. They bought a three-bedroom home in the West Rouge area of Scarborough that had a liveable basement—a rarity in Holland—and a large yard. In those first 12 months, Cecile couldn't work because she was here on a tourist visa. So the Harts put together a plan to make it work as a single-income household, which included relying on each other's strengths. Since Thomas is handy, he turned his attention to building furniture, which he did between teaching contracts at local universities. He built two sets of bunk beds to accommodate the family's four young girls, as well as custom furniture for his daughters' dressing room (all four girls share one bedroom, while another bedroom is their dedicated closet and dressing room). Cecile became active in her local barter economy—a neighbourhood network of families that sells or gives stuff away. The Harts also prepare meal plans and, like many families, shop at second-hand stores when the need arises. They even manage family getaways by renting cottages when demand—and prices—are lower.
As a one-income family, you need to be a lot more creative when it comes to finding workable solutions to budget problems, says Collacutt. For some families that means opting for part-time daycare—a move that can help hold a daycare space for your child, should you decide to later return to work. It can also mean developing a family-minding community. "This is where families get together and share the child-minding responsibilities," says Collacutt. Each family will watch all the children on a specific day, giving the other parents a child-free day to do shopping, chores or just relax. You could also ask family members to step in for a scheduled day or two to help watch the kids. "Goals and priorities often create the conflict that causes stress on both our budgets and our relationships," explains Collacutt. But with some creative solutions you can often balance both.
Step 4: Reward yourself
Creative solutions won't solve every problem. Sometimes, you simply need the right motivation. For Bruce Thompson, a Regina-based CFP and Money Coach, the key to setting and achieving sensible goals is to establish smart incentives. "In my father's day it was unheard of to spend any money until all debts were paid off," says Thompson. "But that self-imposed deprivation doesn't work for most." For example, a strict budget could see your family out of debt in two years, but without an inch of wiggle room. You could be setting yourself up for failure, which often leads to further debt, he cautions. Instead, focus on debt repayment, but add in some motivational rewards, such as an annual family vacation. "It may mean paying off a debt in four years rather than two, but you'd still be debt-free and you wouldn't feel deprived of living."
To help families focus on their goals—and curb impulse and incidental spending—Collacutt suggests listing all your needs and wants and then organizing them based on red, yellow and green categories. "Red are the priority areas, yellow not as important and green even less so," she explains. It's a mental trick that allows you to focus on priorities rather than become obsessed with the things you're cutting back on. For instance, if you've identified the annual family vacation as a priority, but noticed you're spending $40 per week on take-out meals, you will gladly stop spending the money on pizza if you know the reward is a week away with your loved ones.
Step 5: Plan for emergencies
Now that you've made a budget, set some goals and have a few rewards lined up, what could possibly go wrong? "A roof leak or car breakdowns are expenses you can't predict or control," says Forward. Quite often, these are the very expenses that create a cycle of debt and repayment that is the death knell of many a good plan. So, the last puzzle piece to making a single-income household work is planning for the unexpected. The easiest solution would be to stuff a high-interest savings account or TFSA with cash. But Thompson concedes this isn't always possible. "Instead, set up a no- or low-cost line of credit that is accessed only in emergencies," says Thompson. Then discuss with your partner a plan for when this line of credit is to be used and how it should be paid back.
If your family owns a home, consider talking to a bank about getting a low-interest home equity line of credit (known as a HELOC). This type of loan is secured using the equity available in your home and the interest rate can be as little as prime plus 0.5%. "Just resist the temptation to get a big line of credit," cautions Thompson. That's when people get into trouble. "The key to making a cheap loan work for you is to not use it and, if you do, have a plan for how you will pay it off."
You should also consider what would happen if the working spouse suddenly suffers a disability or, worse, dies. "Prepare for the unexpected," says Forward.
It's something the Roys did before Kimberly became a full-time mom. "We're pragmatic," says Kimberly, "and we talk and plan everything before we take the next step." So before she left her job, she and her husband maximized his life and disability insurance coverage. "We both agreed that should something terrible happen, the last thing we wanted is to have me rush out to find work just to pay the bills."
There's also one thing many single-income families forget: how the non-income-earning spouse is perceived by banks and creditors. "Your credit score is used for everything from home insurance, to mortgage renewal to getting a loan," says Thompson. Stop working and your credit score could suffer. "You end up relying on your spouse's earning and credit-worthiness and this doesn't build up or maintain your own credit score," says Collacutt.
A simple solution, says Thompson, is to apply for two credit cards, use them regularly, and pay them off each month. "It's best to use two cards and even better if you can start with a $2,500 limit on both," he says. If you're starting with little or no credit, consider a pre-paid card, says Van Nest. As you use it, you build your credit score which makes it easier to apply for a new mortgage or car loan.
Despite all their planning, the Roys did actually end up with a surprise. Just two months into being a single-income household, the Roys met with the teachers at their daughter's school. "Our daughter has fetal alcohol spectrum disorder and was having a tough time in a structured school environment," says Kimberly. "We were advised that we could push for additional special education support and keep her in school or we could withdraw her and home-school her." That's when Kimberly went from being a stay-at-home mom to a stay-at-home mom and teacher. So far, so good, says Kimberly. "She's much happier and that helps her learn better."
For the Roys this is what it's all about: raising happy, healthy kids as a family that is involved and present in their lives. "After a decade as a dual-income household, we're making a single income work for us," says Kimberly. "There's been large changes in our lifestyle, but now we're 100% present and we're much happier because of it."
In a dual-income world, Amanda and Greg Burke have realized that "learning to stretch a dollar is really important"