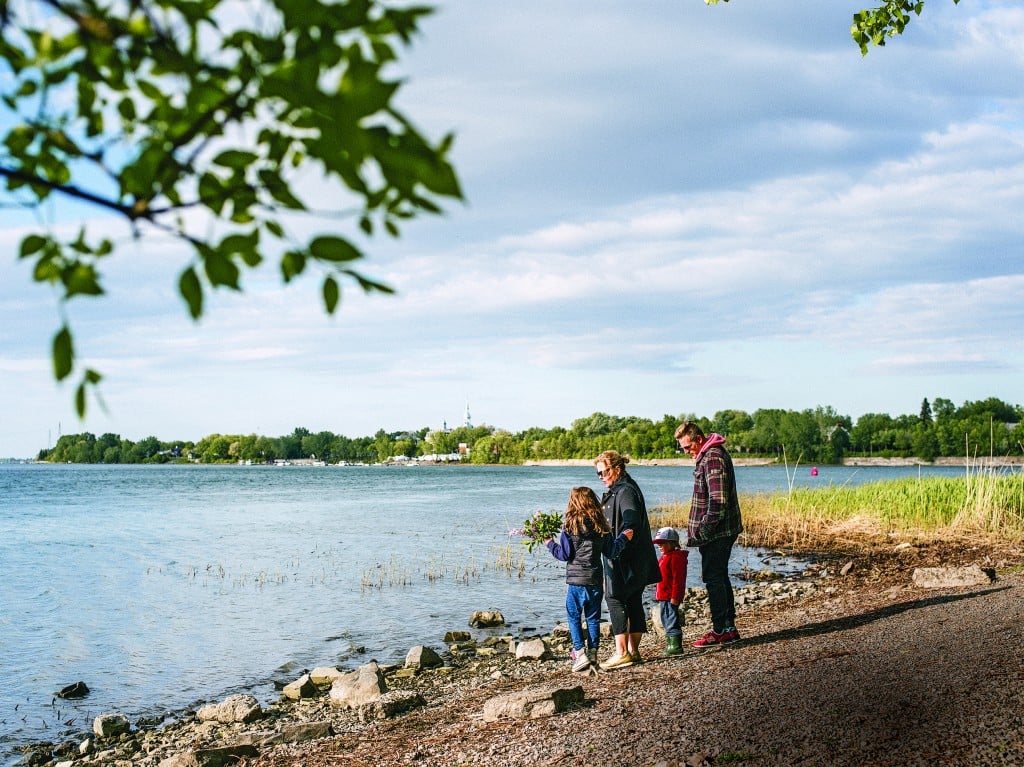 Imagine you are exploring Canada for the very first time. You've committed to travelling around this vast country, looking for that idyllic spot for you and your family to call home. You're armed with a checklist and reams of data tracking liveability across various measures—job prospects, affordability, weather and more—and are going to use it to identify the best place to live. 
We here at MoneySense do something similar each year, spending months sifting through reports from Environics Analytics, Statistics Canada and other data providers. In a country that measures 6,521 km across, with massively different economic regions and seven distinct climate zones, you can imagine it's a lot to digest. We carefully weigh dozens of factors to get a big picture of the overall health of 209 communities across the country. The results for this year are in, and the number one city just might surprise you. 
Topping our Best Places to Live list this year is Boucherville, Que. You can find this predominately French-speaking community just across the St. Lawrence River from Montreal. Its population is just over 43,000, small enough to sit everyone comfortably inside Montreal's Olympic Stadium and leave it still feeling somewhat empty. But a look at the city's stellar liveability stats—plus conversations with residents, one of whom we'll meet in the pages to come—reveals what makes Boucherville such an amazing place to put down roots. 
Boucherville knocks St. Albert, Alta., a small town on the fringes of Edmonton, out of the top slot. Two other Alberta cities, Calgary and Strathcona County, also took big tumbles, showing that the surge in the West that has been such a dominant theme in our report in recent years has come to an abrupt halt. Join us as we visit some of the winning cities and learn why they came out on top.
Full ranking: All 209 cities »
Photo gallery: Top 25 best places to live  »
Hometown vs. hometown
Canadians are proud of their country, but if we've learned anything in the 10 years we've been putting this report together it's that hometown pride is even stronger. Ask Canadians where they think the best place to live is and don't be surprised if they say it's where they are right now. It's hard to argue against civic pride, but that's not what this report is all about. The purpose is to take an objective look at the communities across the country and identify the ones where residents can thrive.  
Sure there are lots of things you can rank a city on—and we consider 34 different factors before choosing our winner—but at MoneySense we feel there is a strong correlation between the economics of a city and type of life you are able build there for your family. Everyone wants to live in a beautiful part of the country, away from sub-Arctic conditions, but we question how much you'll be able to enjoy a city if you have to work all the time—or if you can't find work at all. It's akin to owning a dream home and not being able to furnish it. Where you live shouldn't jeopardize your retirement, prohibit you from putting your kids through school or limit your ability to take a vacation now and then. That's why measures like housing prices, employment and incomes are particularly important, and are given the greatest weighting in our report. 
We also feel that if you're going to call someplace home it better well have good access to health care, low crime, good public transportation and, yes, nice weather. We also recognize that not everyone is cut out to live in a small town while others are overwhelmed by a big city, which is why we also break down our list according to city size.
Full ranking: All 209 cities »
Photo gallery: Top 25 best places to live  »
Parlez-vous francais?
If you want to live in the best place in Canada, you might want to brush up on your French. Visit Boucherville's website and you won't find much information in English—that's only available upon request. If you let language be a barrier to exploring this city, then it's your loss. Boucherville scores high marks in just about every category we track, from low unemployment, high incomes and affordable housing, to strong population growth, good access to transit and a vibrant arts community. And while for years it resembled many suburbs, home to big box stores like Costco and Ikea as well as unimaginative chain restaurants, that too has started to change.
Six years ago, when Valérie Beaulieu moved from Montreal to Boucherville, there weren't many options if you were looking for specialty grocers or small independent restaurants. These days there's a growing number of food options, and other South Shore residents now make the trek to Boucherville just to pick up a baguette from L'Amour du Pain, which is ranked as one of the best bakeries in Greater Montreal by sites like Urbanspoon, Trip Advisor and La Presse. 
Beaulieu left the Island of Montreal for the same reason many have in recent years: a better environment for her family. "I love Montreal, but I think Boucherville is better for my kids. It's a beautiful place to live," she says. Before settling on Boucherville she explored several communities closer to Montreal. While many had beautiful older homes and the commute would have been slightly shorter, in the end she felt she could get more for her money by going just a little further out.
Full ranking: All 209 cities »
Photo gallery: Top 25 best places to live  »
Welcome back Ottawa
Our nation's capital held the top spot on our ranking for several years until it was knocked from its perch by Calgary in 2013. This year Ottawa is the top large city and No. 2 overall, and it came within a beaver tail of reclaiming the top spot. Like St. Albert, Ottawa benefits from being fairly stable while other cities have slipped back in key areas. Ottawa earns high marks for incomes, transportation, access to health care and low taxes. And while Ottawa's average home price of $422,000 might not sound cheap to many Canadians, its affordability score is on par with cities half its size.
Ottawa is known for its historic buildings, museums and over-the-top Canada Day celebrations on Parliament Hill, but residents like freelance writer Dyan Cross love it for things like farmers' markets and the Central Experimental Farm, an agricultural site in the heart of the city. She also likes the easy access to skiing in the Gatineau Hills and cross-border shopping in Ogdensburg, N.Y. While Cross describes Ottawa as being a stable and prosperous city, it has changed a fair bit over the years. Not long ago most things would shut down after 9 p.m., she says, but now she feels Ottawa has more good restaurants and better nightlife. 
While Ottawa has consistently been near the top of our list for many years, other cities have made more dramatic moves. Amongst the large cities (those with populations over 400,000) our biggest gainer this year was Hamilton Ont., which climbed to No. 41 from No. 77 last year thanks to improvements in things like unemployment and property tax. Surrey, B.C., also experienced a huge leap up the list as its population growth eased back to a more manageable 10.9% for the period we looked at this year (2010 to 2014), versus from 17.7% between 2008 and 2013. That change contributed to its jump in our ranking to No. 141 from No. 174 last year. 
Fortunately, the commute is still manageable. Even in traffic Beaulieu can get into Montreal, where she works as a TV researcher, in just 30 minutes. Given how pronounced the differences are between Montreal and Boucherville you'd almost think it'd have to be further away. While Boucherville is comprised of good-sized homes, an abundance of luxury vehicles, and the income to afford them, Montreal is plagued by high unemployment and low incomes and residents pay big bucks for cramped spaces.
Full ranking: All 209 cities »
Photo gallery: Top 25 best places to live  »
From boom to bust
Although Boucherville has often done well in our ranking, its rise to the top this year can be partially attributed to the decline in Alberta. The province is suffering due to the fact that oil prices have fallen by more than half since we last crunched our figures. But a closer look at the numbers shows why many Alberta cities slipped out of the top 20 and it's not solely due to the slowing economy.
Indeed, unemployment in the province is starting to rise, but it's coming off a very low level. And though there have been stories warning about rising Employment Insurance claims and home foreclosures, as Krishen Rangasamy, senior economist at National Bank, noted after the April jobs report, Alberta's employment remains resilient. In fact, outside of the main urban centres in areas like Wood Buffalo (which includes oil-rich centres like Fort McMurray) unemployment rates are still well below what they were a few years ago. 
The drop many Alberta cities experienced in our ranking is in some ways due to their recent success. The heady days the province has enjoyed in recent years has attracted people to the province at an incredible rate. Between 2010 and 2014 the population grew by 15.4%—nearly twice the national average over that time. While population growth is healthy, growing too quickly leads to problems. And as Canadians flocked to the province in pursuit of high-paying jobs, it took a toll on services like health care and drove up home prices.
The drop of the western cities allows eastern cities to take control of the top of the list—at least for now. But don't count Alberta out just yet. Consider St. Albert, Alta.—the top city in our list last year—has only dropped to No. 4. Calgary may have fallen out of the top 5 down to No. 19, but gains in a few key areas like health care could quickly push it back to the top. As a 2014 Calgary Herald article noted, health care is a challenge for the growing city. Roughly a fifth of Calgarians rely on walk-in clinics and emergency rooms when health issues arise because they can't find a family doctor. 
Full ranking: All 209 cities »
Photo gallery: Top 25 best places to live  »

In the midst of it all
Mid-sized cities also made gains this year. Burlington, Ont., a city that constantly scores well in our report, is the top in this category, rising a few notches this year on our overall list to No. 3. Its close proximity to Toronto, Hamilton and the U.S. border is one of the main reasons families settle here, but as residents like Monica Rettig have discovered there's much more to like about Burlington than its location. After growing up in Brampton, Ont., and spending her mid-twenties in Toronto, Rettig never envisioned returning to the burbs. In Toronto she could walk everywhere. If she was short on groceries there were plenty of dinner options at her doorstep. Everything was so close she didn't even own a car. But then her circumstances changed. She got a job at Brock University in Saint Catharines, Ont., as a librarian while her husband worked in downtown Toronto. Burlington, being right in the middle, became the default compromise. "In the first few years we were not won over by it," concedes Rettig. "It wasn't easy to meet people and the whole walkability factor was a huge loss." 
Six years in, and since starting a family, Burlington has really grown on them. "When you have kids it's a lot easier to meet other families," she says. All of the park space and the schools help raise the appeal. But by living here they've also discovered things that they wouldn't have if they had stayed in Toronto. There's a lot going on in nearby Hamilton, says Rettig, noting that they often find themselves heading there over Toronto now when they want an evening out.
Looking back, Rettig is happy with her decision to settle in Burlington. Housing is more reasonably priced here, and she believes it would be a struggle to own a house closer to "The Big Smoke." And in Toronto, she says, she most certainly wouldn't have a backyard. "It's such a suburban answer but we are really enjoying the backyard," she says when asked what her favourite thing is about living in Burlington. "These days that's what we're into." Just like Valérie Beaulieu in Boucherville, Rettig has discovered that often it's the small, simple things that make us truly love our homes.
Full ranking: All 209 cities »
Photo gallery: Top 25 best places to live  »
When you're retired certain economic factors, like the unemployment rate, are less of a concern. Instead, retirees are often more interested in having good access to health care, mild weather and low property taxes. Ranking the list on 26 categories, Ottawa tops our list of Best Places to Retire this year. While Ottawa's weather certainly can't compare to senior hotspots like Florida, there is less snow to shovel when compared with other cities in our frost-bitten country.
St. Albert, Alta., a bedroom community outside of Edmonton, takes the top slot in our Best Places to Raise Kids list this year. It has the perfect combination of factors that make life easier for young families. Kids have no shortage of friends to play with, considering that one-fifth of the population is under the age of 15 and 58% of families have kids. The large young population helps sustain events like the International Children's Festival, which has been running in St. Albert for more than three decades. Daycare costs in the province aren't cheap—the average is $955 a month—but it's within reach of most families given that the median income is a healthy $129,000.
To identify the best places for new Canadians we consider a number of the factors many immigrants might look for: good job prospects, high incomes, good transit and affordable housing. We also look for cities that already have strong immigrant communities that newcomers can tap into to help ease the transition. Many newcomers flock to big cities, but there are other options. Consider Saanich, B.C., just north of Victoria, where more than 17% of the population speak a language other than French or English at home. It's also a safe city that has low unemployment and good public transit.
Last year only two cities had an average household net worth above $1 million—this year there are six. West Vancouver, B.C., has a hefty $2 million lead over its nearest rival. Meanwhile Canmore, Alta., enjoyed the biggest gain in net worth, up 20% in one year.