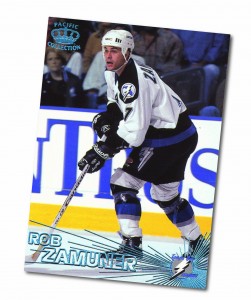 Rob Zamuner
Age: 45
NHL career: 1991 to 2004
Position: Left wing
Teams: New York Rangers, Tampa Bay Lightning, Ottawa Senators, Boston Bruins
Where he is now: Northeast Divisional Rep for the NHLPA, trustee of the players' pension plan and an advisor for health, dental, insurance and other benefits
"I teach 25-year-old hockey stars how to handle their sudden fortunes—before it's too late"
No 25-year-old—whether he's a big-league hockey player or a barista at Starbucks—spends much time thinking about his pension. But two years ago, I spent a lot of time negotiating a defined benefit pension plan for NHL players, and that meant educating a lot of 25-year-old players about how important their pension would be for them down the road. We arranged meetings with all 30 teams so we could run the numbers for the guys. It's an issue I feel really passionate about, and one I wish more people would investigate when getting hired by a new employer.
A little learning goes a long way. For instance, the No. 1 question I get these days is, "How do I get the most from my pension?" For NHL players, 10 years in the league gets you a full pension. But they're curious about how their pension will be taxed. Will they get penalized if they take money out early? What are joint survivor options? These are questions that every Canadian with a pension should ask, not just hockey players. My job is to demystify all the jargon for them.
Years of doing this have taught me that financial literacy is empowering. I start educating players right from their rookie year—their first year on the job. About 60 rookies enter the league a year, and I set up an introductory program for them. They learn how to find an advisor, how to ask the right questions, and why it's important to stay informed on all league benefits and pension issues. Rookies are often 19 years old when they start receiving a huge paycheque, and many of them have to be taught everything from how to open a bank account, to writing a cheque, to learning about tax deductions. We give them the tools, because while a lot of hockey players surround themselves with agents, smart hockey guys aren't necessarily good at teaching life skills. So I try to fill the gap.
I've also come to learn that storytelling is a key tool for educating players on their finances. It makes the whole process much less intimidating. That's why I also set up a three-day event where ex-hockey players and other entrepreneurs tell their business or financial stories, whether good or bad. People, especially hockey players, learn best from their peers.
If I have one tip for all investors, it would be to never buy a stock on rumour or gossip. It's easy to get carried away in the dressing room when your buddies are telling you how much money they've made on a stock tip. I know from experience that nobody tells you about their losers. So ignore them. Stay disciplined and make sure you understand all the benefits you're entitled to from your employer. And finally, stay on top of things by monitoring your returns so you can fix any financial issues before the losses start mounting. It doesn't have to be any more complicated than that."