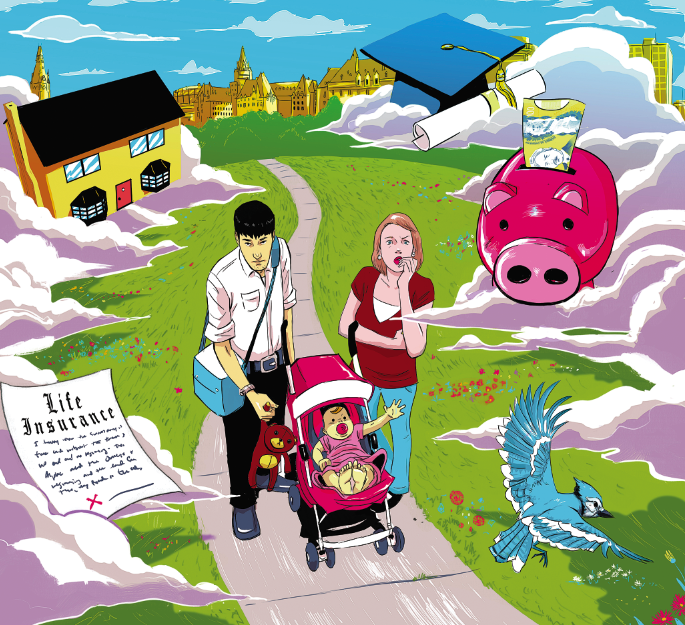 For most people, travelling to a destination wedding in Paris would be a cause for celebration. But for new parents Marie and Alain Martin of Hamilton, Ont., the experience was quite the opposite. In fact, it was terrifying. Last spring, while en route to France, the couple found themselves gripped by panic at the persistent thought of their transatlantic flight suddenly plunging into the deep, frigid waters 45,000 feet below. Neither are nervous flyers. Instead, the two 30-year-olds were thinking of their 16-month-old daughter Emily at home in Canada.
"We had to leave her behind with our parents," recalls Marie. "During the plane ride, all we did was worry about what would happen to her if something happened to the two of us. Those were scary moments because we realized we didn't have our finances, wills and insurance in order."
And since returning home safely, those feelings of financial insecurity have only continued to intensify. "We used to be able to save $30,000 a year or more before Emily was born," says Alain. "Now, with the added expenses of daycare and extra groceries and baby costs, we're aiming to save $15,000 or so a year. We need to re-examine our financial goals as well as our lifestyle goals."
Like many young families, the Martins (we've changed names to protect privacy) are finding out that their new addition is forcing them to take stock and come up with a whole new list of financial priorities. Never before have they had so many demands on their income, and so many important outcomes riding on their decisions.
The weight of that newfound responsibility has already motivated them to move back to Ottawa where they have family and friends. "Having a child without a strong family support system is very tricky," says Marie. "So I asked my boss for a transfer to Ottawa and when he said okay, we jumped at the chance."

But beyond those logistics, several questions remain unanswered for the couple. For starters, they wonder if it's time to update their life insurance now that they have a dependant. "We have a $250,000, 20-year term life policy that we pay $38 a month for," says Marie. "We're sure it's not enough but aren't sure what to replace it with." Also of concern is the fact that Alain has no disability insurance. "These are really questions we've just started asking ourselves with Emily's arrival," he says. "Kids really do change things." There's Emily's future post-secondary needs to think about, too. "My parents contribute $15 every two weeks and we add another $1,720 for a total of $2,500 annually to her Registered Education Savings Plan (RESP)," says Marie. "Is that enough?"
Baby anxieties aside, the Martins are also worried about themselves—specifically, what savings and investment strategy they should adopt going forward. "Since neither Marie nor I have a company pension plan I don't think we can reach our retirement goal of having enough income to support an upper-middle-class retirement," says Alain. "Until now, we haven't given much thought to our actual investments. We'll need to do better, but there are so many choices."
Something working in the couple's favour that shouldn't be overlooked are the good financial lessons they received from their families. Both Marie and Alain have fathers who worked for government tax centres, something that helped them to learn the value of a dollar. "When I was growing up, we had a very comfortable middle-class lifestyle," says Marie. "We want the same for our growing family."