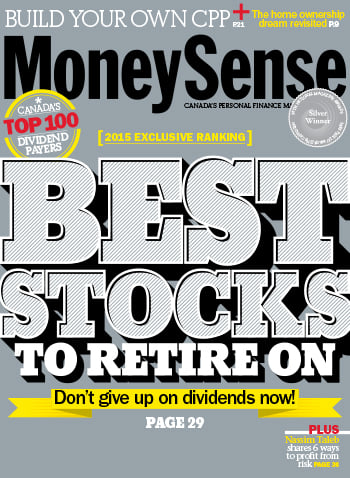 As MoneySense's new Editor-In-Chief, it's exciting to get the opportunity to lead the team here. In the digital age there is often waaay too much information out there. But this brand cuts through the noise with the information Canadians really want and need.
That's why it has an intensely loyal, engaged community of subscribers and readers who trust it as the go-to source for personal finance insights and analysis. Building that trust is a team of talented and dedicated editors, as well as a lineup of great experts like Norm Rothery, who delivers this issue's Cover Story with his hotly-awaited list of the best dividend stocks to power your retirement investing strategy. Dan Bortolotti, Bruce Sellery and the rest of our brilliant roster of contributors make us the clear leader when it comes to learning about money, how to keep more of what you have and how to make it grow.
I am coming aboard at an exciting time in MoneySense's evolution. Our subscriber base is the envy of many titles and our digital audience is growing at a rapid pace in web traffic (almost half a million unique visitors each month) and social media reach (32,000 fans on Facebook, up 300% in the past year alone).
You can look forward to some interesting changes in the months ahead­—but you can also count on us to remain true to our core proposition, which is to arm readers with the insights they need to be smarter about all things money. That applies when you invest, spend, save and earn. And, whether you're just saving your first $100 or nursing a seven-figure nest egg, we will find a way to steer you to simple, low-cost strategies. Of course, if you really want to splurge on a $10,000 mattress, we can help you with that, too.
Look for us during MoneySense Week (Nov. 8-14) as part of Financial Literacy Month. MoneySense experts will be speaking on 680 News, appearing on City News and Cityline and in stories and columns on a special hub on our website.