If someone had told Janice Barr three years ago that she'd find herself in the devastating position she's in right now—single and pregnant—she wouldn't have believed it. After months of planning, Janice, 33, is expecting a child with her ex-husband Richard, 52—a man she had been married to for just five months after a lengthy courtship. Sadder yet, she's already been through single motherhood once before as a teenager.
"It was devastating and I swore I would never have any more children until I'd found my life partner," says Janice, a former business consultant in Richmond Hill, Ont. "And then I met Richard at an NHL game in 2012. Right away, I thought he was the man for me. Long story short, when I became pregnant, he immediately filed for divorce. Now I'm living in a one-bedroom condo with my teenage daughter Mandy. That's a far cry from the $4-million house Richard, a very successful small-business owner, was building for us in upstate New York."
Despite being in the middle of a lengthy divorce battle—with legal bills mounting and no income coming in right now—Janice can at least take solace in the fact that she and Richard (we've changed their names) had a pre-nup guaranteeing her $250,000, as well $20,000 a month in child support until Mandy turns 18. But even that's brought up its own unique challenges.
While you'd think such a large windfall would alleviate some of her stress, the simple fact is Janice has never had to contemplate managing so much money before in her life—and to be sure, there's a lot riding on the decisions she'll make with those eventual funds. "I'm petrified of blowing it," she confesses. "I'm going to spend the next 20 years as a single mom—again. I need to plan for a new baby, figure out how to invest what I save annually, decide whether to buy or rent a bigger condo, and put away money for the baby's education."
There's also the question of Richard's advancing age. "I'm a realist," Janice says. "What happens if he dies and child support stops? I don't plan to return to work until the baby is five years old." Just thinking about all of this makes her feel exhausted.
The good news for Janice is that, despite all of her trepidations about how to move forward financially, the truth is she's always had a good head on her shoulders when it comes to money. Her personal savings from several years of working include $26,096 of (mainly) GICs in a Tax-Free Savings Account (TFSA), $7,086 in a chequing account, $24,000 in a savings account, $21,996 in a U.S. savings account and $24,000 in a Registered Education Savings Plan (RESP) for Mandy. "My savings are modest but I've saved them on my own," she says proudly.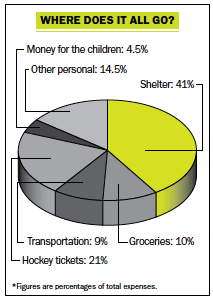 She's less bullish, however, about what do with the small condo she currently owns. It's worth about $380,000 but she still has a $256,000 mortgage left on it—a considerable amount to contend with in her present circumstances. Given Janice's current space constraints, a bigger condo is the first thing on her wish list, but she also wonders if it's wiser to focus her attention on investing some of the proceeds of her divorce settlement—and whether she should do that herself or get someone else to manage it. "I like the idea of eventually investing in real estate," she says, "but I don't know much about it."
Something else Janice is considering is setting up a discount brokerage account and buying low-cost market-tracking funds, such as exchange-traded funds (ETFs), by herself. "I'm willing to learn about investing with index funds but wonder whether I'll be able to make the most of this money on my own," she says.
Yet another concern is what to do about insurance. Because Janice doesn't plan on returning to work for another five years, she needs to figure out what to do about replacing dental, health and life insurance. "How much do I really need and how much should I pay?"
With so many daunting decisions ahead of her, it's understandable that Janice often finds herself looking backwards instead of forward. It was just last May that she and Richard were wed, remaining married just until they found themselves expecting a child together this past September. Only now Janice realizes there were some red flags she probably should have paid more attention to, explaining that she and her ex never actually lived in the same country until they decided to exchange vows. "In our entire relationship, Richard had been to Canada five times—to propose, to meet Mandy, to get married, to attend the Toronto International Film Festival and to conceive our child," she says, stressing that they had, in fact, jointly planned to have a baby together.
Despite such limited contact, Janice always thought Richard "was smart, funny, kind and generous." And while the two had mainly kept a long-distance relationship, since he lived in New York State, the plan—until recently—had been for her and the baby to move in with him. Of course, "that won't happen now," she says.
Even today, she has a hard time believing her marriage is over. "He was happy," Janice says—or so she thought. Whether Richard suddenly had a case of cold feet is, of course, a distinct possibility, but she can only look to one fight that seemingly sparked the dissolution of their relationship—that was last September. "One morning, after the dog was sick and pooped all over the new house in New York, Richard went off to play squash instead of cleaning it up. I exploded." Richard then left and the next week served Janice with divorce papers. The two haven't seen each other since.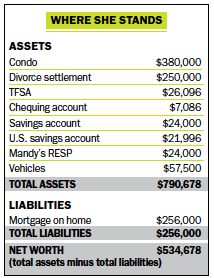 At least, she says, her financial condition is considerably different now compared to the last time she found herself in similar parental circumstances. That was at age 16 when Janice was pregnant with Mandy and then spent much of her time living in an apartment geared to low-income single moms. Her income was $693 a month and that was to cover all living expenses. "I hated it," she says, adding that she never saw Mandy's father after that one time they had sex. "It felt like poverty, but I managed on ramen noodles and ketchup. I rented at least seven different tiny apartments and was often forced out illegally because of the baby's crying."
From 2000 to 2004, Janice held several jobs, including an inventory clerk, administrative assistant and telemarketer. Then she got lucky—getting a job working at a friend's spa. "That started me on my way to a sales career," she says. Over the next few years she built up her own consulting business that allowed her to earn a six-figure income.
Today, Janice's main concern is moving forward and regaining the momentum she felt she once had. "Richard wants nothing to do with us, and I've accepted that," she says. "Now I need to get on the right track financially to make sure I'm not eating cat food when I retire." Once child support payments kick in, she figures she should be able to save about $167,000 annually, which she wants to put into the right investments so that she can retire at age 60. "I'd like to have a paid-off condo and $50,000 net a year to live on." Returning to a fulfilling career at some point down the road is another goal. "I'm good at sales but I don't have a strong educational background. I don't know where to start."
Most of all, though, Janice just wants to take care of her kids. "My child support payments stop in 18 years. And if I can raise my two kids to be happy and successful adults, I'll have done my job."
What the experts say
Janice Burr is in a unique financial situation—going through a divorce while expecting a child. Her biggest problem isn't if she'll have enough money (she'll have plenty) but how to manage the child support windfall she's expecting. While she questions her ability to save and invest, up until now she's done an admirable job. "She should pat herself on the back," says certified divorce financial analyst Tatiana Terekhova. "She has $120,000 in equity in her condo and has saved $75,000. That's amazing." But going forward Janice will have to take more control of her finances, solidify a divorce settlement and plan for her future alone. Here's what she should do.
Create an investment plan. Janice will have $20,000 a month tax-free coming in from child support for 18 years. So her investment plan can be summed up in three words, says Terekhova: "Keep it simple." Terekhova calculates that if Janice stashes $167,655 away annually for 18 years, she'll have over $3 million at age 52 when payments stop—even if she gets zero return on her money. "At age 52, she'll be able to withdraw $50,000 net annually until age 110 without running out of money." Still, Janice should aim for a modest investment return of 3% net annually. "She shouldn't take on more risk than she needs to," says Terekhova. A good solution is to simply educate herself on the Couch Potato strategy using ETFs (canadiancouchpotato.com). "This simple strategy is all she needs."
Get insurance sorted. Janice needs a $3-million life insurance policy, on her ex. Terekhova explains that some insurance companies offer declining balance life insurance geared towards separation agreements. "So if the payor dies half way through payments, the need for insurance is half as well," says Terekhova. Janice needs to be an irrevocable beneficiary of this policy, but also possibly an owner, so she pays the premiums and the insurance doesn't expire. "It will protect her should Richard inadvertently stop paying the premiums," says Terekhova. "A 20-year term life policy with declining coverage of $20,000 a month for 18 years would carry a premium of about $900 a month," says Lorne Marr, founder of LSM Insurance in Markham, Ont.
Janice shouldn't rely on U.S. medical insurance, either, even if Richard is willing to pay for it. "They're famous in the U.S. for having lots of clauses in their policies and not paying out," says Terekhova. She needs a comprehensive Canadian health policy. She should get the maximum coverage possible.
Redo her will. "Janice needs to see a lawyer and designate a guardian for her baby should anything happen to her," says Barbara Garbens, a fee-for-service advisor in Toronto. If Richard says he'll take the child in case of Janice's death, he'll have first rights but "Janice needs to have this discussion with Richard," says Garbens. "Otherwise, she should designate Mandy as the guardian." Janice's will should also be incorporated into the separation agreement and state who (in this case Mandy) would get child support payments if Janice dies.
Pay off the mortgage. Terekhova wants Janice to pay off the mortgage on her condo with the $250,000 divorce settlement money—but verify there won't be early payment penalties first. If she has a variable rate mortgage, the prepayment penalty will be negligible but if it's a fixed, closed mortgage, the penalty could be as much as $25,000. "In that case, Janice should strategize using accelerated payments and prepayments and then paying off the entire mortgage when it renews," says Terekhova. At that time, Janice should secure an equity line of credit in case the $20,000 child support payments stop.
Build a new career. A year from now, when her life is more settled, career coach Caird Urquhart of Newroad Coaching in Toronto recommends that Janice ask herself what kind of life she wants. "She has the luxury of choice and time to make it happen." She advises Janice to imagine where she would like to be in two years. She'd also like to see Janice work from home or part-time, to get back into the market. "She needs to create a new life and the truth is she needs to make changes to her behaviour. It's what got her into this in the first place and she has to reconcile herself with that."