If someone had told Janice Barr three years ago that she'd find herself in the devastating position she's in right now—single and pregnant—she wouldn't have believed it. After months of planning, Janice, 33, is expecting a child with her ex-husband Richard, 52—a man she had been married to for just five months after a lengthy courtship. Sadder yet, she's already been through single motherhood once before as a teenager.
"It was devastating and I swore I would never have any more children until I'd found my life partner," says Janice, a former business consultant in Richmond Hill, Ont. "And then I met Richard at an NHL game in 2012. Right away, I thought he was the man for me. Long story short, when I became pregnant, he immediately filed for divorce. Now I'm living in a one-bedroom condo with my teenage daughter Mandy. That's a far cry from the $4-million house Richard, a very successful small-business owner, was building for us in upstate New York."
Despite being in the middle of a lengthy divorce battle—with legal bills mounting and no income coming in right now—Janice can at least take solace in the fact that she and Richard (we've changed their names) had a pre-nup guaranteeing her $250,000, as well $20,000 a month in child support until Mandy turns 18. But even that's brought up its own unique challenges.
While you'd think such a large windfall would alleviate some of her stress, the simple fact is Janice has never had to contemplate managing so much money before in her life—and to be sure, there's a lot riding on the decisions she'll make with those eventual funds. "I'm petrified of blowing it," she confesses. "I'm going to spend the next 20 years as a single mom—again. I need to plan for a new baby, figure out how to invest what I save annually, decide whether to buy or rent a bigger condo, and put away money for the baby's education."
There's also the question of Richard's advancing age. "I'm a realist," Janice says. "What happens if he dies and child support stops? I don't plan to return to work until the baby is five years old." Just thinking about all of this makes her feel exhausted.
The good news for Janice is that, despite all of her trepidations about how to move forward financially, the truth is she's always had a good head on her shoulders when it comes to money. Her personal savings from several years of working include $26,096 of (mainly) GICs in a Tax-Free Savings Account (TFSA), $7,086 in a chequing account, $24,000 in a savings account, $21,996 in a U.S. savings account and $24,000 in a Registered Education Savings Plan (RESP) for Mandy. "My savings are modest but I've saved them on my own," she says proudly.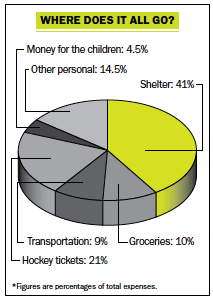 She's less bullish, however, about what do with the small condo she currently owns. It's worth about $380,000 but she still has a $256,000 mortgage left on it—a considerable amount to contend with in her present circumstances. Given Janice's current space constraints, a bigger condo is the first thing on her wish list, but she also wonders if it's wiser to focus her attention on investing some of the proceeds of her divorce settlement—and whether she should do that herself or get someone else to manage it. "I like the idea of eventually investing in real estate," she says, "but I don't know much about it."
Something else Janice is considering is setting up a discount brokerage account and buying low-cost market-tracking funds, such as exchange-traded funds (ETFs), by herself. "I'm willing to learn about investing with index funds but wonder whether I'll be able to make the most of this money on my own," she says.