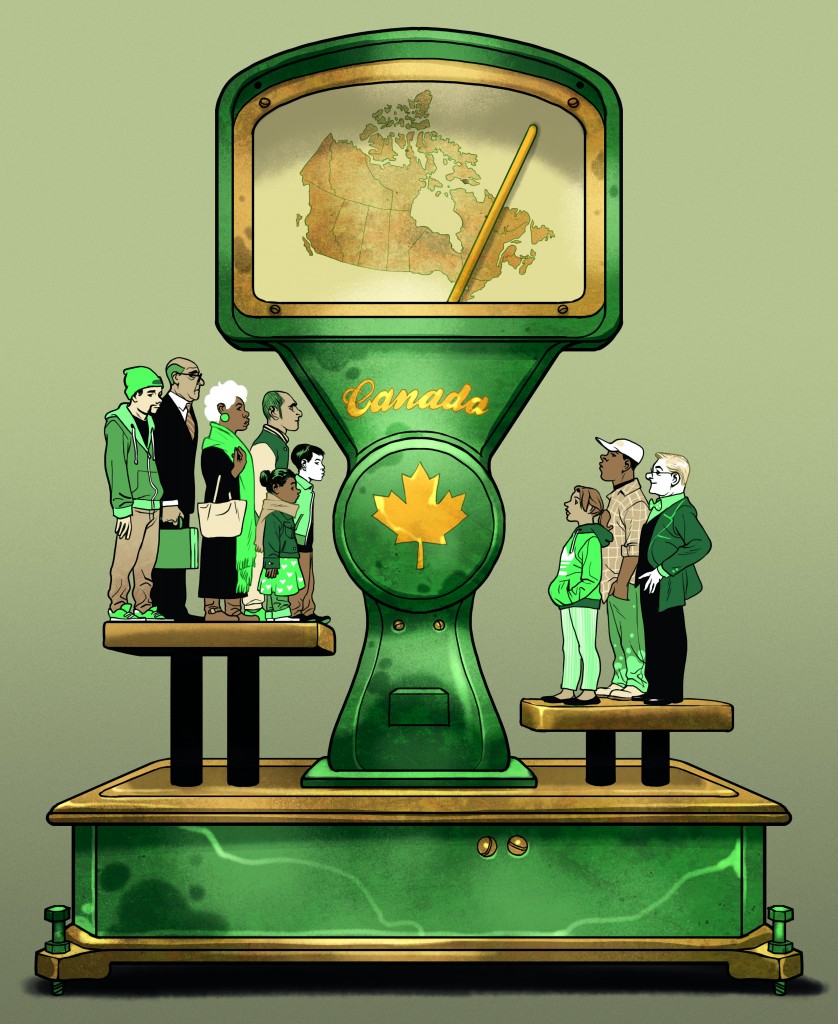 The last time MoneySense published the All-Canadian Wealth Test—our detailed examination of how your personal finances stack up against others—was back in 2009. And boy, it would be an understatement to say things weren't going well then. Our nation was reeling from the worst stock market crash since the Great Depression. In the recession that followed, job losses neared 500,000. Debt levels soared and bankruptcies became all too common. Things were brutal.
Here at MoneySense we were almost apprehensive about going through the exercise again—but we're happy to report things have improved dramatically. Since 2008, incomes and net worths across the country have not only recovered, they're better than before. Unemployment is down to 6.5% from a high of 8.7% in August 2009, our stock portfolios have bounced back thanks to a long bull market, we're saving more and we're taking on debt at a slower rate. In fact, when you think about how well Canada weathered the financial crisis, it's hard not to be grateful—particularly when you think about the struggles endured by our neighbours to the south and across the pond.
That's all fine and good for the country as a whole. But we're guessing you're more interested in knowing how you're doing—and not just compared to the average Canadian. We know you're curious about that hoity-toity neighbour across the street—you know, the one with the fancy new Beamer. Can he really afford it when you're struggling to pay for your kid's dance lessons? And what about that frenemy co-worker who brags incessantly about her investments—is it possible her returns are that much better than yours?
If you've been wrestling with questions like this, take a deep breath, relax, and keep reading. We've got all the answers in the pages ahead. In fact, this year's version of the Wealth Test is our most comprehensive yet. As always, we'll tell you if you're earning more or less than your peers, if you're wealthier or poorer than others, and whether your portfolio is outperforming. But with the assistance of our friends at Environics Analytics we're now slicing and dicing the data in ways we've never done before. Not only will you know how you're doing compared to the country as a whole and by region, but you'll see how your finances and wealth stack up against those living in Canada's biggest cities. We're also drilling deeper to give you a better understanding of the levels of debt and accessible cash your neighbours have.
We've noticed some surprising trends that may improve your mood, too. For starters, the wealth divide in Canada is actually narrowing. So is the wage difference between the sexes.
Now, despite the prosperity Canada is experiencing, there are still some concerns. A lot of our wealth is tied to our homes: real estate now accounts for a staggering 49% of our net worth, compared to just 37% at the turn of the century. So far the Canadian housing market has remained strong, but if a major correction is around the corner—as experts have been predicting for, ahem, the last decade—many homeowners will experience some harsh financial repercussions.
But the point of the All-Canadian Wealth Test isn't to strike fear in your heart, nor is it to get you crazy with jealousy over your friend's paycheque, or to make you puff up your chest because you're worth more than your annoying brother-in-law. Rather, it offers you a look at the true state of wealth in Canada—and it will hopefully reassure you that you're doing just fine.