West Vancouver

Axel Rohr spent a year in British Columbia when he was 16 and he has spent most of his life looking for a route back. "From that time I knew it was one of the nicest places you can imagine," he says. As recently as a year ago, the accomplished neuroradiologist was living in his native Germany. When he saw Vancouver General Hospital was looking for a specialist in his field, he seized the opportunity.
In little time Rohr and his wife Dorothea zeroed in on West Vancouver as the place they wanted to live. Not only is it close to the hospital where he works, the city has a reputation for great schools and sports clubs for the couple's two youngest kids, Benedikt, 16, and Elisabeth, 13. (They have two older sons still in Germany, who will join them this summer.) The area also strikes the perfect balance between access to nature and hiking trails, which Rohr craves, and the Kitsilano area across the Lion's Gate Bridge in central Vancouver, which his wife loves to visit.
Photo gallery: Top 25 Best Places to Live »
See more data on West Vancouver »
Greater Vancouver is a collection of small communities unique in their own away. The downtown is densely populated with prime restaurants and shops. Port Coquitlam and cities further east are far from the ocean, but offer increasingly rare glimmering hopes of affordable homes in the region. West Vancouver is more private and laid back than the rest of the region, says Rohr. "It's just not as busy and it has a beautiful view—you don't get that
everywhere else."
But with the average home price hovering near $2 million, it's prohibitive. Even rents are pricey, with the average two-bedroom apartment in West Van going for about $2,200 a month. And as Rohr discovered, they're going up. His landlord is pushing for a 30% increase at the end of his lease. It's a serious concern, but with vacancy rates so low, Rohr was just happy to find a place to rent.
With such an expensive market, it may seem odd that we've named West Vancouver one of the best places to live in Canada. But it does tick off everything we look for in a city: a wealthy community with low unemployment that's extremely safe, growing at a healthy rate and offering all of the amenities you expect in a city. It's worth noting there is a more than $100,000 gap between the average and median household incomes ($193,879 vs $82,722, respectively), suggesting a small number of families account for a large part of the wealth.
While there's no question affordability is a serious concern in West Vancouver, it's no more or less an issue than what one might encounter in the surrounding area. To find a more affordable community you'd have to drive at least 40 km and be willing to make other concessions. The sheer cost of living means West Vancouver isn't for everyone—sadly that's true for much of B.C.—but then paradise rarely comes cheap.
Hover or tap to see the Best Place to Live in each region.
West Vancouver photo credit: (Kyle Pierce/Flickr)
---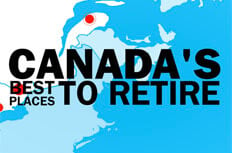 What does the perfect place to retire look like? We feel it should be somewhere with low taxes, a thriving cultural community, quick access to an airport and plenty of doctors. (It should also have 20°C weather in February, but there are some things we can't control.) Here are the Top 10 places with the highest retirement score.
---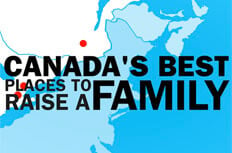 Raising a family is a lot of work, but it gets easier if you have a strong community to back you up. Our ranking looks for access to affordable daycare, high density of school-aged kids and schools, affordable homes and well-paying jobs. Here are the 10 cities that scored the highest for having kids.
---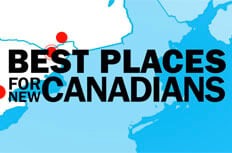 Those looking to start a new life in Canada should place these 10 cities high on their list. What do they have in common? Well-paying jobs, low unemployment rates and plenty of affordable rental properties. They're also culturally diverse, increasing the odds that recent immigrants will forge new connections in the community.
---
Six Canadian cities have household net worths above the $1-million mark—and one of them also cracks the top 10 of the overall Best Places to Live in the country. And get this: The No. 1 city's $3.5-million average household net worth is more than twice as much as that of the No. 2 richest city in Canada.