We're pleased to present you with the eleventh edition of the MoneySense Dividend All-Stars. It serves up a new crop of the best blue-chip dividend stocks in Canada while harvesting a decade's worth of gains.
If you had purchased an equal dollar amount of each A-graded Dividend All-Star and rolled the proceeds into the new ones each year, you'd have gained a total of 178%, including dividends, since we started way back in 2007. Similarly, a portfolio of A-and-B stocks would have climbed 119%. By way of comparison, the S&P/TSX Composite Index ETF (XIC), which tracks the broad Canadian stock market, lagged with a total return of 47% over the same period. The A-graded stocks beat the market index by an average of 6.6 percentage points annually since we started.
Long term outperformance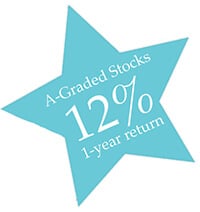 More recently, the A-graded stocks gained an average of 12% since last year's update. In an unusual, but by no means unique turn of affairs, the larger group of A-and-B-graded stocks fared better with gains of 16% on average. Both handily beat the S&P/TSX Composite ETF (XIC), which advanced 5% over the same period.
(The returns above assume dividend reinvestment when the list was updated each year.  They do not include commissions, taxes, or similar frictions.)
We're happy with the results and they help to emphasize market research that has extolled the virtues of dividend stocks for a long time. For instance, Dartmouth professor Kenneth French studied stock picking strategies globally and his numbers demonstrate that dividend stocks have fared particularly well in Canada.
In one study, Professor French sorted Canadian stocks by dividend yield at the end of December and put them into three portfolios. The first portfolio held the 30% of stocks with the highest yields and the second contained the 30% of stocks with the lowest yields. The final portfolio tracked stocks that didn't pay dividends. The portfolios were followed for a year and then the process was repeated.
The accompanying figure shows the growth of each portfolio along with that of the Canadian stock market. The high-yield stocks outperformed the market by an average of 4.1 percentage points a year from 1977 through to the end of 2016, which really adds up. The low-yield group underperformed by 0.7 of a percentage point annually over the same period.