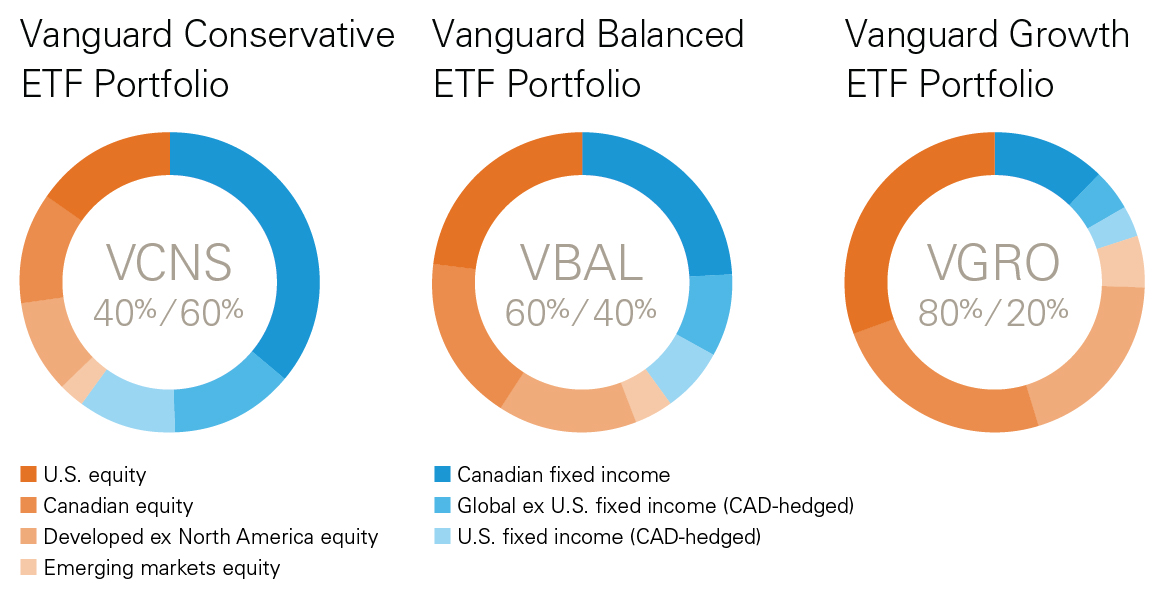 Vanguard Investments Canada Inc. has announced the listing of three new low-cost Asset Allocation ETFs that give investors one-stop shopping to the firm's globally diversified strategies. This is a significant move that not only creates a smart, low-fee, all-in-one portfolio but will also act as a challenge to the rise of so-called robo advisors.
In essence, the middle (Balanced) of the three Asset Allocation ETFs is the equivalent of the global balanced fund, which I've argued in the past should — in theory anyway — be the only investment fund you need. Similarly, while Vanguard's ETFs are invariably components of the robo-adviser services out there (along with BlackRock iShares), any of these three new ETFs could serve as a one-size-fits all alternative to them. It also compares with Franklin Templeton's Quotential.
The difference is that at 22 basis points and change, the three Vanguard products are quite a bit less costly: less than half what many robo services charge, which is typically about 50 basis points (half a per cent) plus the underlying ETF fees.
Both investors and advisors are asking for "simple yet sophisticated single-ticket investment solutions that provide well-diversified global equity and bond exposure within a low-cost ETF structure," says Atul Tiwari, managing director for Vanguard Canada. The new ETFs offer investors three different risk profiles and regular rebalancing.
In effect, each ETF is a fund of funds although Vanguard describes them as having an "ETF of ETFs structure." Each holds seven existing core Vanguard index ETFs (which I list in the postscript below). Each new ETF of ETFs has a management Fee of 0.22%. Vanguard says that when one of its ETFs invests in underlying Vanguard funds, "there shall be no duplication of management fees." Spokesman Matthew Gierasimczuk said "There are no duplicate fees beyond the 0.22 management fee, other than a basis point or two for operating expense and the trading fee for buying or selling the ETF."
RELATED: How to declutter your portfolio
The three asset allocation ETFs cover the normal range from Conservative to Balanced to Growth, as reflected in the product names. Equity weights range from 40% for the Conservative offering, to 60% for the Balanced and 80% for the Growth.