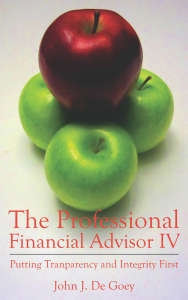 An excerpt from The Professional Financial Advisor IV (Insomniac Press), a guide that explores the complex relationship between investors and their advisors
The challenge for all advisors is to cut through the clutter and to get clients to focus on the things that are both important and within a client's personal control. By the time anyone reads or even hears about financial news, it's too late to act on it. If markets are indeed highly efficient, it means that by the time the information becomes available, larger, faster participants will have already analyzed the implications of the news and acted on it. If there's news that interest rates have gone up unexpectedly, the bond market will reflect that new reality within seconds.
As such, calling your advisor the next morning to act on the "news" is like locking the barn door after the horse has left the stable. The industry has a term to describe the economic and political events that get people interested, even excited, but have virtually no real value: investment pornography.
People need to sort out for themselves whether or not it's worth taking action on news items. Developments that are generally unimportant, but interesting grab financial headlines on most days. The information is usually nothing more than background noise in the busy hubbub of life for a person seeking financial independence. A large part of the role of an advisor is to act as a filter and to ensure that clients are not unduly swayed by headlines and sound bites. They rarely add up to anything. Investment pornography includes but is not limited to the following:
fluctuations in currencies
the prices of oil, gold, and other commodities
where stock markets closed
yield curves
Anyone focusing on a time frame of twenty years or longer isn't going to care much about the day-today, week-to-week, or month-to-month gyrations of any of these items, but people read about them and people watch the business news daily.
As the saying goes, "In the short run, returns are virtually unknowable, but in the long run, they are virtually inevitable." Advisors with a long-term perspective won't make predictions about what any of the gyrations mean or will lead to because these fluctuations don't genuinely matter in the grand scheme of things. To my mind, professional advisors focus primarily on things that not only matter but are also within their control: asset mix, cost, turnover (taxes), and long-term plans.
STANDUP advisors (Scientific Testing and Necessary Disclosure Underpin Professionalism) have a daunting task ahead of them, yet not for reasons you might intuitively think. If the media goes on and on about sexy tidbits of breaking news, staying focused on mundane long-term goals seems dull in comparison. Long-term, mundane developments are generally not considered newsworthy. As a result, who can blame consumers for thinking the items in the daily news are relatively more important?