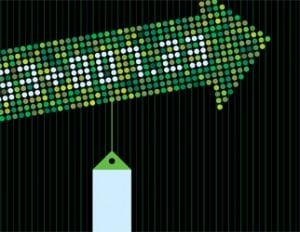 Patricia Price grabs a coffee, powers up her computer, turns on BNN and settles in for another day scouring the investment news on the web for the next stock to buy. When she answers a phone call from MoneySense, it doesn't take long before she turns the conversation to the mining company Teck, and China's appetite for resources. "Over the long term copper and coal should do well," she says. Price delivers her outlook with the confidence of a trader on Bay Street, but in fact she's a 68-year-old, semi-retired Maritimer in Boiestown, N.B., a speck of a place some 50 minutes north of Fredericton.
Today Price is waffling on her next move for Teck after watching her investment tank. She got in on the diversified miner at $58. Like a wise investor, she lowered her average buying cost by adding to her position when shares dipped to $48, and again when they ticked below $38. She lost patience when the shares bottomed out at $26. Time to move on, but her confidence boils away as talk turns to selling. "I want to take my loss on Teck and put it somewhere I feel is much safer, but because it's starting to creep up again I hesitate to do that." You can hear the anxiety in her voice.
It's like a bad romance. Just when you think you're ready to break up and move on, you get reeled back in. Price isn't the only one who feels this way. "You look at a company and it goes nowhere; then it flirts with you by going up a bit and down a bit," says William Corbett, a retired criminal lawyer in Ottawa who manages his own portfolio. "Selling is an emotional thing."
Emotions muddy the decision-making process, not just for amateurs like Price and Corbett, but for professionals, too. "Business school taught me how to buy, but selling is intuitive," says Irwin Michael of ABC Funds. "You have to learn that part on your own."
Sir John Templeton once said the only time to sell is when you need the money. In practice it's more complicated. The pros will tell you there aren't many companies worthy of such devotion—especially in a small concentrated market like Canada.
Investments change over time—even the good ones. Take Eastman Kodak. The film manufacturer was a blue-chip stock for more than 70 years and rewarded long-term investors handsomely, especially those who bought it before the Second World War. And then it didn't. The proliferation of digital cameras made Kodak irrelevant and it succumbed to bankruptcy in 2012, eight years after losing its place in the Dow.
Investments aren't the only things that change over time; your needs do, too. You may need to sell for an emergency, to transition your portfolio to focus more on fixed income or even for routine rebalancing. It all boils down to this: how do you identify the right time? Here are how some of the best investment minds in the country decide when it's time to sell a stock.
Know where the exits are
"Anyone with money can buy stocks, but only smart people can sell them," says Ted Weisberg, president of Seaport Securities in New York. Sage advice from a man who's spent more than 40 years as a broker on the floor of the NYSE and runs a successful money management firm. Smart investors need to find a way to separate emotions from their investment decisions. "The sell decision should be wrapped around your ultimate goals," he says.