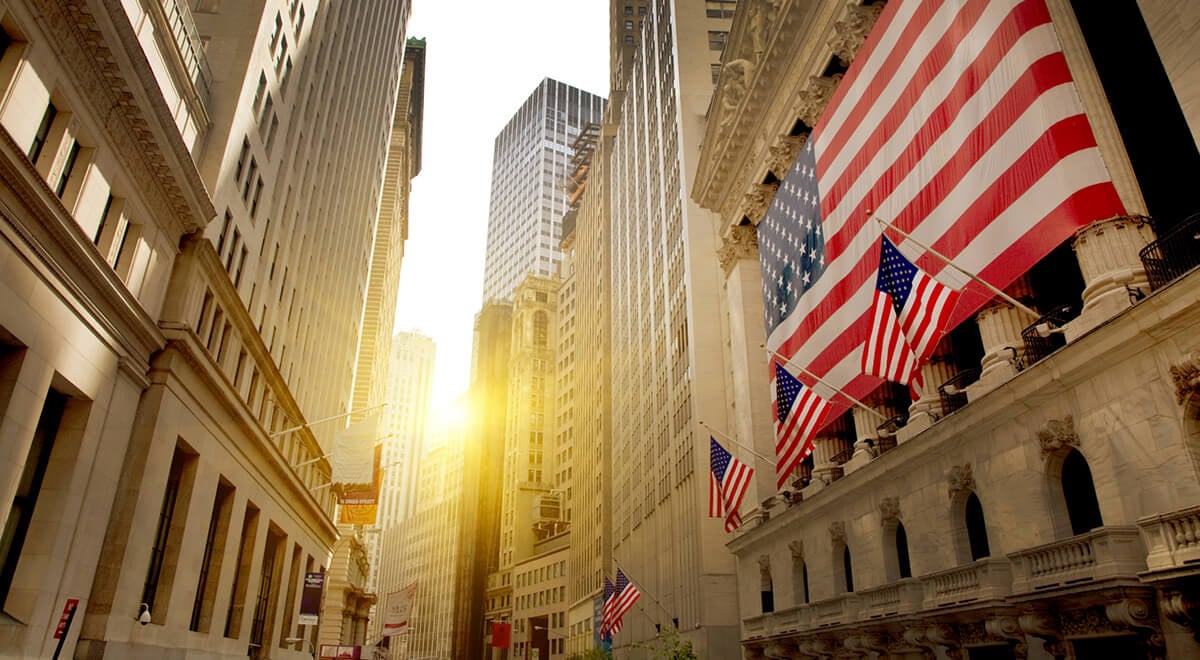 Unlike the Canadian equity market which is concentrated in three sectors (financials, energy, materials), most equity investors would argue the US market is far more efficient both in terms of available liquidity, and the representation of the full economy with more stocks to choose from within each sector. This being said, the S&P 500 Total Return Index is certainly a tougher benchmark to beat factoring in the added efficiencies when compared the S&P/TSX Composite TR Index. This leaves most Canadian investors who may be looking to take advantage of the recent strength in the Canadian dollar in a bit of a conundrum.
Sign up for our Investing newsletter »
What are we looking for
A Low-Maintenance U.S. conservative large cap portfolio that outperforms the S&P500 TR Index over the long term. To achieve this, I use Morningstar CPMS* to design a low-maintenance portfolio (with the idea of keeping transaction costs low) that ranks stocks within the S&P 500 TR Index on two simple factors:
Yield on expected dividends. This is the yield calculated by taking the most recently announced, but not yet paid, distribution and dividing it by the most recent stock price)
Five-year historic beta. Recall that Beta is a sensitivity measure. In falling markets, a stock with a beta lower than 1 well have fallen less than the index, while in rising markets a stock with Beta lower than one will rise less than the index. Here we use Beta as a defensive measure, preferring companies lower Beta.
What we found
During this process, 20 stocks were purchased and equally weighted with two stocks per economic sector. Once a quarter, we used dividend proceeds to re-balance stocks back to their equally weighted target. Once a year, we replaced all the stocks in the portfolio with the highest ranked stocks based on the above two parameters. When I used Morningstar CPMS to back test this strategy from December 1993 to June, 2017 I found this strategy produced an annualized total return of 13.4% while the S&P 500 TR Index returned 9.4%.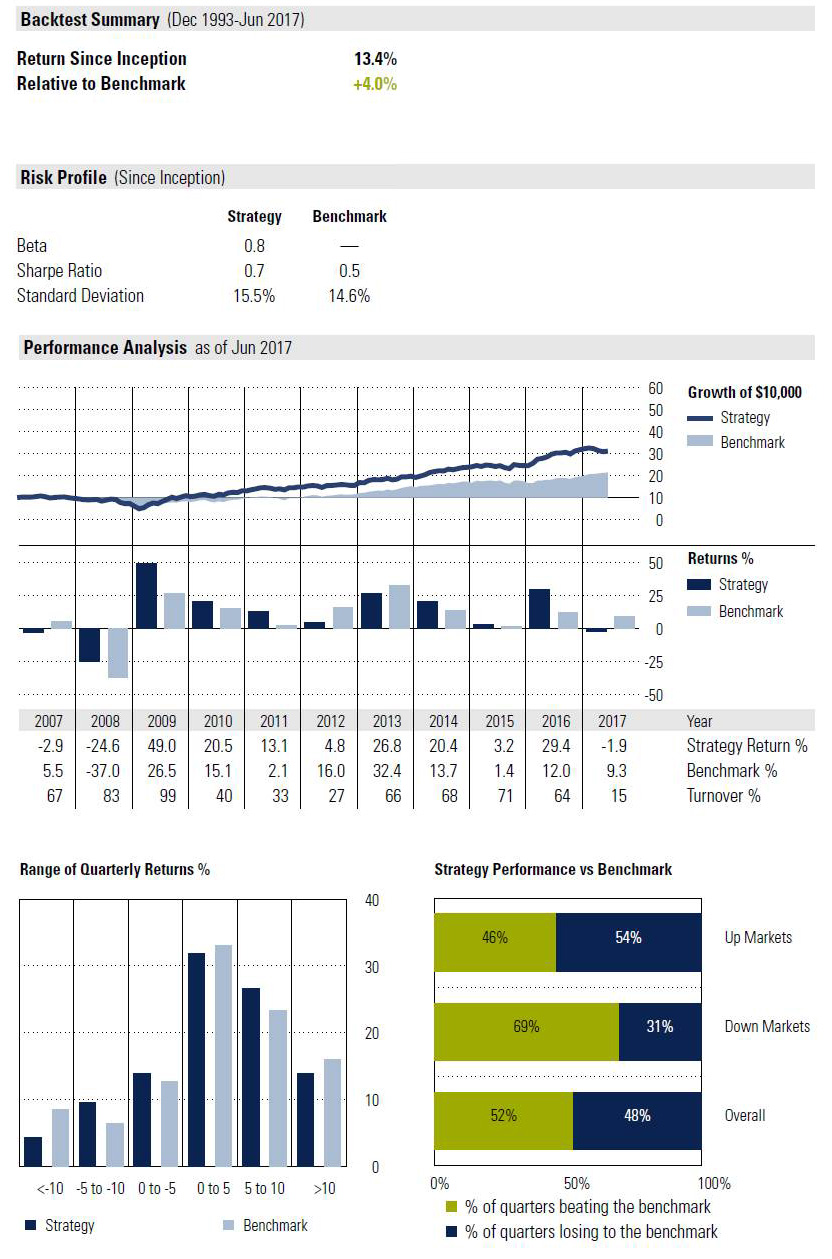 The stocks that qualify for purchase into the strategy are listed in the table below. As always, investors are encouraged to conduct their own independent research before purchasing any of the investments listed here:
A conservative large cap portfolio
| Rank | Company | Morningstar Sector | Market Cap ($USD Millions) | Yield (%) | 5Y Historic Beta |
| --- | --- | --- | --- | --- | --- |
| 1 | Southern Company (SO) | Utilities | $46,994.8 | 4.9 | 0.1 |
| 2 | FirstEnergy Corp (FE) | Utilities | $13,866.9 | 4.6 | 0.2 |
| 3 | AT&T Inc. (T) | Communication Services | $222,742.0 | 5.4 | 0.5 |
| 4 | Verizon Communications (VZ) | Communication Services | $178,309.2 | 5.3 | 0.5 |
| 5 | L Brands, Inc. (LB) | Consumer Cyclical | $12,695.7 | 5.4 | 0.6 |
| 6 | Occidental Petroleum (OXY) | Energy | $45,423.8 | 5.2 | 0.7 |
| 7 | Macy's Inc. (M) | Consumer Cyclical | $6,909.3 | 6.7 | 0.8 |
| 8 | Target Corporation (TGT) | Consumer Defensive | $29,819.8 | 4.6 | 0.6 |
| 9 | Conagra Brands, Inc. (CAG) | Consumer Defensive | $14,097.6 | 2.5 | 0.2 |
| 10 | ONEOK Inc (OKE) | Energy | $11,574.7 | 5.4 | 1.2 |
| 11 | Eli Lilly & Co (LLY) | Healthcare | $93,501.2 | 2.5 | 0.3 |
| 12 | People's Untd Fncl Inc. (PBCT) | Financial Services | $6,081.2 | 3.9 | 0.8 |
| 13 | CH Robinson Worldwide (CHRW) | Industrials | $9,245.1 | 2.7 | 0.5 |
| 14 | Motorola Solutions, Inc (MSI) | Technology | $14,821.7 | 2.1 | 0.3 |
| 15 | Int'l Business Machines (IBM) | Technology | $137,157.2 | 4.1 | 1 |
| 16 | Lyondellbasell Ind NV (LYB) | Basic Materials | $35,142.2 | 4.1 | 1 |
| 17 | Pfizer Inc (PFE) | Healthcare | $198,848.6 | 3.8 | 1 |
| 18 | Grainger WW Inc (GWW) | Industrials | $9,746.7 | 3.1 | 0.7 |
| 19 | CF Industries Hldg Inc. (CF) | Basic Materials | $7,046.8 | 4 | 1.2 |
| 20 | Western Union Company (WU) | Financial Services | $9,029.2 | 3.7 | 1.2 |
 Data as of July 24th, 2017