We're pleased to present you with the twelfth edition of the MoneySense Dividend All-Stars. It offers a new batch of top Canadian blue-chip dividend stocks while providing plenty of data on the largest 100 dividend payers in the land.
The Dividend All-Stars have outperformed the market since we started way back in 2007. If you purchased an equal-dollar amount of each A-graded Dividend All-Star and rolled the proceeds into the new ones each year, you'd have gained a total of 207%, including dividends, since 2007. Similarly, a portfolio of A-and-B stocks would have climbed 133%. By way of comparison, the S&P/TSX Composite Index ETF (XIC), which tracks the broad Canadian stock market, lagged with a total return of 62% over the same period. The A-graded stocks beat the market index by an average of 6 percentage points per year since we started.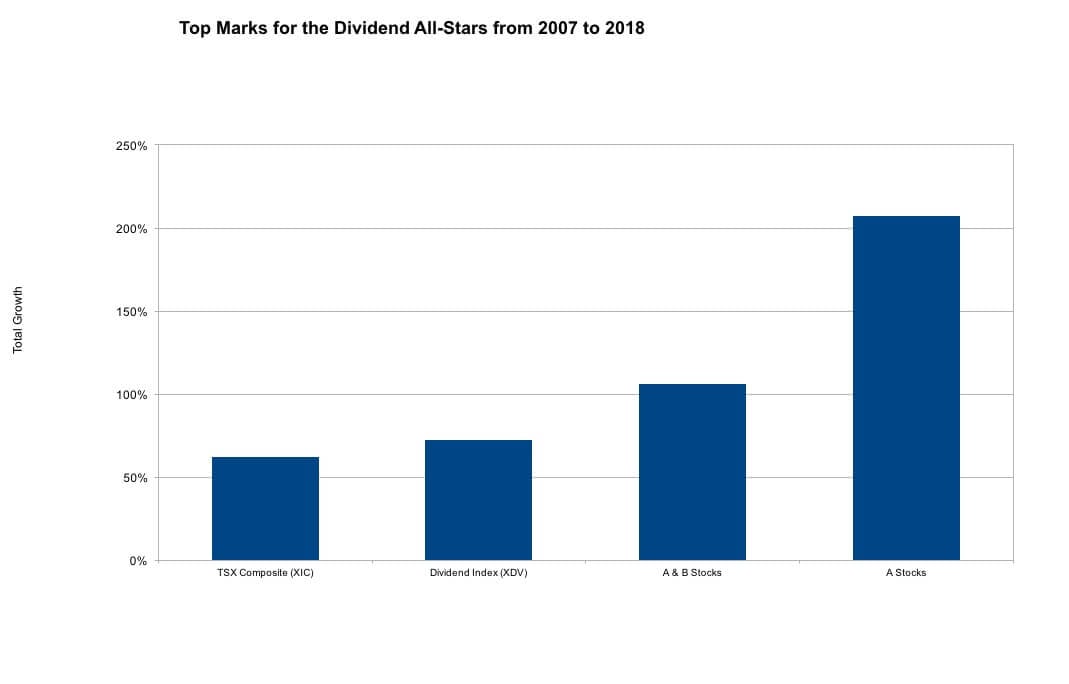 More recently, the A-graded stocks gained an average of 10% since last year's update. The larger group of A-and-B-graded stocks gained 6% on average. By way of comparison, the S&P/TSX Composite ETF (XIC) advanced 11% over the same period. The Dividend All-Stars struggled over the last year as interest rates increased, but they posted reasonable gains overall.
(The returns above assume dividend reinvestment when the list was updated each year. They do not include commissions, taxes, or similar frictions.)
---
Compare the Best Online Brokers in Canada* >
---
A haven for dividend stocks
We're happy with the strong long-term results generated by the Dividend All-Stars, but aren't surprised. Canadian dividend stocks have historically been strong performers; Dartmouth professor Kenneth French studied stock picking strategies globally and his numbers demonstrate that dividend stocks fared particularly well in Canada.
In one study, Professor French sorted Canadian stocks by dividend yield at the end of December and put them into three portfolios. The first portfolio held the 30% of stocks with the highest yields and the second contained the 30% of stocks with the lowest yields. The final portfolio tracked stocks that didn't pay dividends. The portfolios were followed for a year and then the process was repeated.
The accompanying figure shows the growth of each portfolio along with that of the Canadian stock market. The high-yield stocks outperformed the market by an average of 4.0 percentage points a year from 1977 through to the end of 2017, which really adds up. The low-yield group underperformed by 0.7 of a percentage point per year over the same period.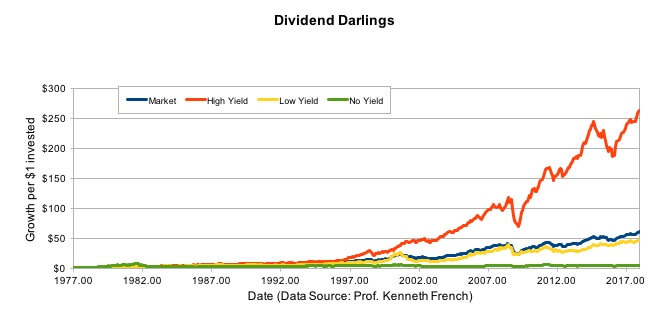 The no-dividend group lagged far behind. It trailed the market by an average of 7.2 percentage points a year from 1977 through 2017. While the group rocketed higher in the late 1970s when resource companies boomed, it peaked in 1981 and then crashed. The portfolio of non-dividend payers has yet to surmount its 1981 highs. Most investors are best to avoid this area of the market.
Aside from strong past performance, focusing on dividends provides behavioural benefits for investors. Bear markets cause a great deal of distress, prompting some to sell rashly. But investors who pay attention to dividend yields will notice that yields rise when stock prices fall. The higher yields may encourage them to load up—or at least stay invested—when bear markets bite. At least, that's the theory.
Yield, Reliability, and Value
When picking dividend stocks we evaluate each candidate based on its yield, reliability, and value. You can read all about the process in our methodology, but we offer an easy to understand letter-grade that sums up a stock's investment potential.
Stocks with the best prospects are awarded As and solid candidates get Bs. We think both are worthy of your consideration. Middle of the road options get Cs, while those in need of improvement get Ds or Fs.
A select group of eight of stocks managed to earn As this year, while 10 picked up solid Bs.
---
Compare the Best Online Brokers in Canada* >
---
A word of caution
Use our grades as the starting point for your own research. Before buying any stock, make sure its situation hasn't substantially changed and that it's right for your portfolio. Read the firm's latest press releases and regulatory filings. Scan reputable media stories to make sure you're up to speed on important developments and breaking news.
While we're pleased with our long-term track record, we can't guarantee you'll make a fortune with every A- or B- graded stock. The market is just too unpredictable for that. Nonetheless, we think they deserve your attention and further research.
Look beyond the grades and think about the unique or intangible features of each company. Such factors can be beneficial, like a recent technological development. But they can also be detrimental, like the sudden arrival of new competition. Be careful out there.
Norm Rothery, CFA, PhD, tweets as @NormanRothery. He may hold some of the securities mentioned in this article.
What does the * mean?
Affiliate (monetized) links can sometimes result in a payment to MoneySense (owned by Ratehub Inc.), which helps our website stay free to our users. If a link has an asterisk (*) or is labelled as "Featured," it is an affiliate link. If a link is labelled as "Sponsored," it is a paid placement, which may or may not have an affiliate link. Our editorial content will never be influenced by these links. We are committed to looking at all available products in the market. Where a product ranks in our article, and whether or not it's included in the first place, is never driven by compensation. For more details, read our MoneySense Monetization policy.