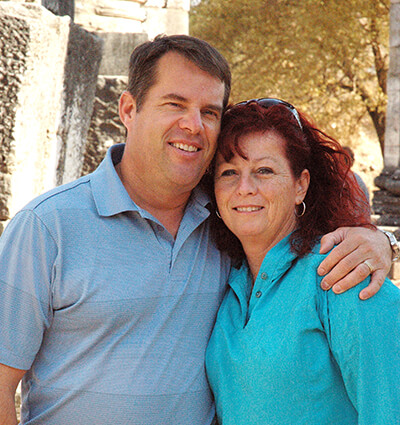 Marc & Kelly Charbonneau
AGE: 55 and 52
PLACE: Gatineau, Quebec
TFSA TOTAL: $82,000 each
STRATEGY: Two dividend-paying bank stocks
Me and my TFSA
Marc Charbonneau and his wife Kelly are looking forward to retiring in seven years. But without a company pension of any kind, Marc is relying on himself and his own investment know-how to pad retirement savings for the couple. He and Kelly have been investing in TFSAs since 2010. His aim? "I want to have $10,000 total in dividend income coming from our TFSAs when we retire in seven years," says Marc, who does all the investing through an online account. "I'm very disciplined."
In fact, Marc is so disciplined that he has never wavered from his strategy, which focuses on buying just two dividend-paying bank stocks—TD Bank and Scotiabank. "I love TD because it has more bank branches in the U.S. than in Canada so that North American exposure is nice. And I like Scotiabank because of its international bank branch network so the businesses complement each other," explains Marc.
And the Charbonneaus don't plan to waiver from their strategy anytime soon. "I believe in the growth potential of banks in general both in the U.S. and internationally," says Marc. "And even if these two banks have hard times, I will always get my dividend, which is important to me and my future goals. I'm very happy with that," he says.
What do the Charbonneaus plan to use the money for? The little extras that make retirement pleasurable—mainly trips to Europe and "fun stuff like that," says Marc. "We own rental real estate and also have a fair amount in RRSPs. The TFSA money will be used to augment that income stream in retirement."
Pro tip
Not bad, but their strategy may fall short of their goals
Holding only two Canadian banks is risky. "I see no 'pros' to this strategy—other than the off chance that Canadian financials might outperform in that seven-year timeframe," says John DeGoey, a portfolio manager with iA Securities in Toronto. The obvious risk for the Charbonneaus is one of concentration. For instance, investors saw a couple of weeks ago what can happen to a bank's share price when a "scandal" (such as the upselling news was) hits financial institutions.
DeGoey recommends putting future contributions towards an diversified international ETF—specifically the Vanguard FTSE Global All Cap ex Can. ETF (Ticker: TSE: VXC). "That will add diversification," he says.
Still, the goal of spinning off $10,000 in dividend income from the two TFSAs in seven years will be difficult to achieve. DeGoey ran the numbers. The Charbonneaus' two TFSAs will likely each total about $140,000 at retirement. Dividend yields are likely to be about 3% or so (more growth = lower dividend yield). "That $260,000 in combined TFSA assets with 3% dividend yield in seven years works out to about $7,800 in tax-free income," says DeGoey. "Not bad, but not quite $10,000."