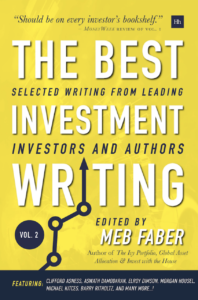 SPEEDREADER
Book: The Best Investment Writing: Selected writings from leading investors and authors (Vol. 2)
Author: Meb Faber
Publisher: Harriman House Ltd.
Where to buy: Amazon
Price: Hardcover $23.46, Kindle $15.11
Who it's for: Investors interested in reading "the best writing from the smartest people" who are basically smart folks who managed billions of dollars of money for other investors.
More specifically: Those interested in improving their own portfolio and investing results as well as those curious about financial planning.
Key investment insight: The trick to good investing is not longer about obtaining information but to select what is relevant and tune out everything else.
Why we like it: It's a thought-provoking compilation of 41 short essays and writings that open a reader's eyes to the many facets of investment research and stock price projection techniques. From writings on market conditions, risk and return, investment portfolio strategies, pricing and valuation, behavioural bias and beyond, there's lots to learn on several topics.
Favorite essays: "Waiting for the Market to Crash is a Terrible Strategy," by Samuel Lee, "Skis and Bikes: The Untold Story of Diversification," by Adam Butler, Michael Philbrick and Rodrigo Corillo, as well as "Portfolios in Wonderland & The Weird Portfolio' by Corey Hoffstein.