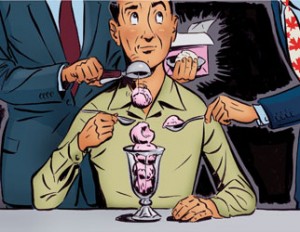 Like most dividend-loving investors, Larry Clark knows that Canadian dividend-paying stocks give you a hefty tax break when you hold them outside of your RRSP. But the Mississauga, Ont., investor (whose name we've changed) finds the dividend tax calculations so numbingly complicated he has no idea how much money he actually saves.
"I kind of understand how the dividend tax thing works, but I don't really know the details," admits Clark, who is 62 and semi-retired. "I just know it's better than other types of income."
Clark isn't alone in his confusion. Of all the mysteries on your tax return, few are as daunting as the treatment of Canadian dividends. We know that dividend income gets preferential tax treatment, but we don't know by how much, or why.
To help you really understand how dividend income saves you money at tax time, we've enlisted the help of a couple of tax experts. We asked Camillo Lento, a chartered accountant and lecturer at Lakehead University in Thunder Bay, Ont., to calculate how much tax an investor would pay at three different income levels if he earned $1,000 in Canadian dividend income, compared with the same amount in interest income. We've compiled the results in the accompanying table, "How much will you save with the dividend tax credit?" (We crunched the numbers for Ontario specifically, as the benefit in that province falls in middle of the pack.) We also got help from Ross McShane, director of financial planning at McLarty and Co. Wealth Management in Ottawa.
Not surprisingly, the results show that investing in Canadian dividend-payers will save you a bundle. But just how sweet the deal is depends on your income. As with many features of our tax system, the benefits are greatest at moderate income levels, and not as attractive as your income rises.
In what follows, we'll do our best to explain the calculations and show you how you can get the largest tax benefit possible. Get out your calculators, and we'll begin. Also, read about how to handle your U.S. dividend stocks.
Click image to enlarge