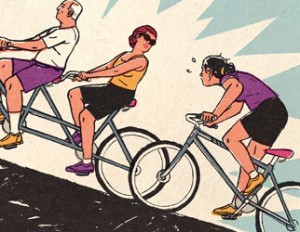 Sisters Andrea and Diane Wilson are both avid readers of MoneySense, but they have a bone to pick. You see, the Winnipeg women (we've changed their names and some identifying details) are both in their mid-50s, and they turn to the magazine to gain insights for their approaching retirements. But they find that much of our advice doesn't apply to them. The reason? They're both single. "The articles are predominantly geared towards couples," says Andrea, who's been divorced since her 30s and has no kids.
"It just leaves me wondering," adds Diane, a widow since her 40s with a grown daughter. "Do you just halve the numbers and think that's you? Or is it totally different?"
As the author of much of MoneySense's retirement coverage, I have to admit it's fair criticism. So I decided it was time to go through the key issues of preparing for retirement as a single person. I'll describe how much singles will need to spend to maintain a typical middle-class active lifestyle in retirement, how much they'll need to save, and describe some planning issues that are particular to being single.
Some of our findings will seem alarming at first glance. To answer Diane's question, no, you can't just take the numbers for couples and divide by two. That's because singles don't have the same opportunities to share costs for things like accommodation, vehicles, and running a household. The fact is, singles will have to save more for retirement on a per-person basis than retirees who can split the load with a partner.
But before you get too depressed, many singles do have a secret advantage that tends to level the playing field. If they're not raising children, they have far more opportunities to save during their 30s and 40s, when couples are typically up to their necks in dirty diapers, daycare costs and monster mortgages.
Read on to see how the grim facts and the good news affect your ability to achieve a comfortable retirement on your own.
Grim FACT #1: Retirement costs more for singles. Sharing saves money. Retired couples split the cost of a home and can often get by with one vehicle, lowering the price tag for the two most expensive items in a household budget. They also share accommodation and car rentals while travelling. Moreover, they can buy food and household items in more efficient quantities, and can divvy up the effort involved in shopping for groceries and preparing healthy, cheap meals at home.