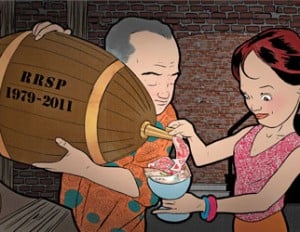 Kathy and Peter Franklin have figured out all the angles on their retire-at-55 plan. The Toronto couple, currently both 47, know how big a nest egg they'll need, and how much they can spend in retirement. They've built a financial plan to help them save diligently and invest wisely along the way. But one thing has them stumped: "Once we get there, how do we get the money out without the taxes killing us?" Peter asks.
The usual advice is to draw income from your non-registered accounts, such as regular savings accounts, first. When that money runs out, then you can go after the funds in your RRSP or Registered Retirement Income Fund (RRIF). That's because the money you withdraw from an RRSP or RRIF counts as income, and you have to pay taxes on it. So you want to put off drawing down that money—and paying those taxes—as long as possible.
But the Franklins (whose names we've changed to protect their privacy) ran their own figures using that strategy and got dubious results. So we talked to several experts who have thought carefully about the most tax-efficient way to draw down a retirement portfolio—and guess what? It turns out the conventional wisdom is dead wrong. "The conventional advice definitely does not constitute 'wisdom'," says Daryl Diamond, a financial planner with Diamond Retirement Planning in Winnipeg. He says retirees need to take a more balanced approach when drawing down their portfolios.
To see why, consider that if you draw down all your non-registered accounts first, you will eventually be left with a nest egg made up entirely of RRSP or RRIF money. Then when you reach 71, you're suddenly forced to convert your RRSP to an annuity or RRIF and start taking minimum withdrawals. This can drive up your income, and because higher incomes are taxed at higher rates, you are liable to pay much more tax than you would have if you'd spread out your RRSP withdrawals more evenly.
It's usually especially wise to draw on your registered accounts first if you retire before age 65, since you'll need to bridge your income needs before Old Age Security and other benefits kick in. This can also help you avoid OAS clawbacks later, says Camillo Lento, a chartered accountant and lecturer at Lakehead University in Thunder Bay, Ont.
The bottom line is, it often makes more sense to withdraw some RRSP money before exhausting your non-registered accounts, even if you take a small hit, because it can help you avoid a much bigger tax bill later. Overall, Canada is quite generous to seniors, thanks to Old Age Security and tax breaks such as the Age Credit. But for higher-income seniors, the system often gives benefits with one hand and claws them back with the other. So any time you consider how much tax you'll pay when you draw down your portfolio in retirement, you also need to consider the clawback of these benefits.
Determining the right drawdown strategy depends on your personal situation—in particular, the amount of income you expect to receive in retirement. Let's look at the opportunities for retirees with low, moderate, and high incomes and help you determine what's right for you.

Low-income seniors
If you don't have much saved up for retirement and you expect to depend on the Guaranteed Income Supplement, then your best bet is to draw down any RRSPs quickly, preferably before you turn 65 and become eligible to collect GIS. That's because each $1 of RRSP income after age 65 results in a clawback of roughly 50 cents from your GIS—equivalent to a 50% marginal tax rate. Since this clawback rate is so high, you're better off pulling out RRSP money earlier, even if you have to pay some tax on it. It will undoubtedly be at a much lower rate than 50%. If you don't immediately need the money to live on, transfer your early RRSP withdrawals to a Tax-Free Savings Account (TFSA). When you take out TFSA money later, it won't have costly GIS consequences.